---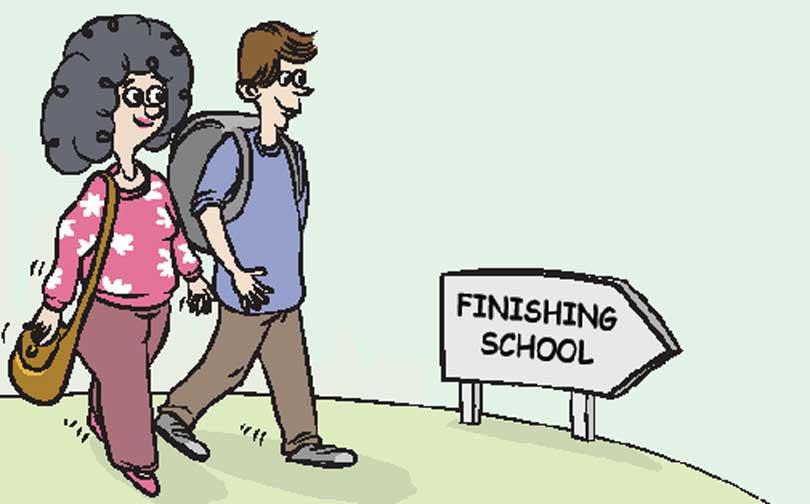 Finishing schools are educational institutions that teach young individuals social courtesy and upper-class cultural traditions to prepare them for the future and adult life.

Etiquette schools, not to be confused with finishing schools (which were for young ladies to learn to be domestic), used to be required of most children to learn and mind their manners.

There is a great need for such institutions for both the young and upcoming gentlemen and ladies of Colombo. It seems that most of the new generation are of another breed. Some do not seem to be bothered and crass complacency seems to be the order of the day should you take some time to observe how they behave in most public places, especially in restaurants and other eating places.

Many who like to entertain in their very grandiose homes lack a lot of these touches that are generally taught at home when growing up. In the past, daughters of the affluent, more than the sons, were sent off to European finishing schools. In today's context they are more ambitious and want to shatter the glass ceiling, which is wonderful. The values of the young gentlemen of today are also at a remarkably high level when it comes to their careers. Some choose the more intellectual path and become experts in the profession they have aimed for, whilst others are looking for the so-called deal and commission to lead the life of Riley. The choice is theirs but the lack of finesse, good manners and entertaining in great style at home have certainly taken a turn for the worse.
There are some homes where the decoration is overkill and the food served does not match up to the decor. Hosting dinners and lunches are also areas that people must learn. There is nothing to be ashamed of wanting to learn all of the do's and don'ts in life. One never knows when one maybe invited to a proper banquet, which is rare in Colombo, but a possibility when travelling in a foreign land either on vacation or work. Presenting and conducting oneself at such a function is of paramount importance rather than behaving in a garrulous and uncouth manner on such occasions.

It would be a wonderful business for a qualified person to open such a school as I am sure there is a niche market for this and there is nothing to be ashamed of being educated in such an institution. It would be better than acting in a barbaric manner and looking the fool, whichever gender one maybe.