---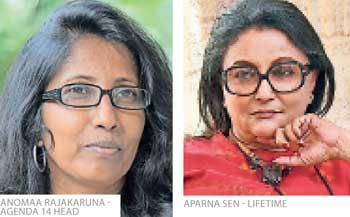 Second Colombo International Women's Film Festival which starts today will be presented as an online festival this year. The festival is presented by Agenda 14, headed by Anomaa Rajakaruna, in partnership with International Federation of Film Societies - Asia Pacific Section Festival is launched to coincide with South Asian Women's Day.
The festival will continue till December 14.

The short films in Competition (National and International) will be featured from November 30 to December 6 while the documentaries and feature films will be presented from December 7 to 13.

The awards ceremony will be held on December 14.

The International Jury comprises Prof. Sumathy Sivamohan (Filmmaker/Academic - Sri Lanka),

Tatjana Turanskyj (Filmmaker - Germany) and Wahyuni A. Hadi (Programmer/Curator - Singapore).
This year's Lifetime Achievement Award of the festival will be presented to veteran Indian filmmaker and actress Aparna Sen.
Short films in Competition will be featured from Nov. 30 to Dec. 6; documentaries and feature films from Dec. 7 to 13
Online Festival Schedule
Short Films in Competition -
National & International (Nov. 30 to Dec. 6)
SHORT FILMS IN COMPETITION -
NATIONAL
01. Thé Kahata (Sri Lanka)
by Yasodara Yasodhara
Kariyawasam
02. Urumaya - Inheritance
(Sri Lanka) by Lanka
Bandaranayake
03. The Ruins (Sri Lanka)
by Senathirajah Vanitha
04. Fake ID is watching
(Sri Lanka) by Fathima
Kamila & Ashfaque
Mohamed
05. It's not a Tall Short thing
(Sri Lanka) by Shalini
Divyanjalee
06. H2O (Sri Lanka)
by Fathima Shanaz
07. We made the Bomb; We
made the Womb (Sri Lanka)
by Namini Panchala
08. Life On Land (Sri Lanka)
by Piyumi Sriyangani,
Dilsara Sindupani,
Yahanika Colonna
09. Two Curries (Sri Lanka)
by Narthanie Serasinghe
10. Beyond The Mirror (Sri
Lanka) by K. L. H.
Maduwanthi
11. Inside (Sri Lanka)
by Ayesha Suraweera
12. Deprimere (Sri Lanka)
by Paramie Jayakody
13. Carrot (Sri Lanka)
by Dumindra Ridmi
14. Light and Life (Sri Lanka)
by Upeksha Mahawaththa,
Aruni Jayawardhana,
Randi Imalka
SHORT FILMS IN COMPETITION - INTERNATIONAL
01. Maa Tuki - Find Me Mother
(India) by Suchana Saha
02. Posharini -
The Saleswoman (India)
by Sreecheta Das
03. Driving Lessons (Iran)
by Marziyeh Riahi
04. Ice Cream (Nepal)
by Sangita Shrestha
05. Safed Sar (Afghanistan)
by Atefah Hesari
06. Ice (|Estonia)
by Anna Hints
07. Diadem (Bosnia and
Herzegovina)
by Milana Majar
08. Once upon a time in
Kurdistan ( Iraq)
by Zhino Hadi Hassan
09. Meenalaap - Fish
Monologue (Bangladesh)
by Senjutee Suborna
Tushee
10. My Name Is Petya (Russia)
by Daria Binevskay
11. Illuminati (Croatia-Serbia)
by Nina Belina
12. Mamatva - Motherhood
(India) by Kirti Singh
13. Performer (Bangladesh)
by Tasmiah Afrin Mou
14. Tenebrae (Singapore)
by Nicole Midori Woodford
The organisers say that all screenings are free.