---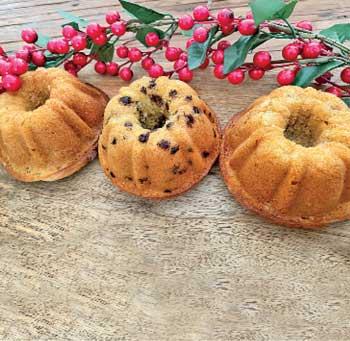 text Panchali Illankoon
In this series, we talk to people who turned their passion for food and baking into a business idea amidst lockdown and COVID-19 fears. Some have been in the market for years and others saw the new opportunity and took it! These home businesses are changing the game and have overcome the odds of running a business during quarantine. With increased restrictions once more, we talk to home bakers who are operating during these times to bring the sweet and savoury to your very own doorstep!
QUARANTINE HOME BAKERS

Chamindri de Fonseka, fondly known as 'Chums' with friends and family, was working as a graphic designer doing branding and packaging through her boutique design firm. Trying her hand at baking during the first lockdown and happy with the success of her goodies, she decided to start her own home baking business.

What do you offer?

I currently offer Cinnamon rolls, Bagels, Muffins and Breudhers. While I have different clients who like my different products, I think my cinnamon rolls tend to be the most popular as I offer them with a variety of options and fillings, in addition to the classic cinnamon roll.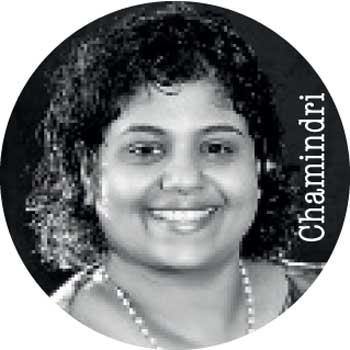 When did you start operations?

I have always enjoyed cooking and to an extent, the passion to cook comes down the family, as my mum owns and operates Tasty Caterers and its associated restaurants. Whilst I only cooked occasionally prior to the lockdown, I tried my hand at baking during the first lockdown, and really enjoyed it, and was encouraged by all the positive feedback I received as well. My husband and the rest of the family encouraged me to take orders and all I did was open up an Instagram page for the business and post each time I took orders, and the orders began to come in.
What is it like running your operations in times like these?

The challenge of operating during the pandemic really came through the difficulties in getting ingredients, as there were many occasions when there were shortages of some of the key ingredients I needed in the market.
Chums Bakes take limited pre-orders via Facebook or Instagram (@chums_bakes) during these Travel Restrictions. Bank Transfers and Cash on Delivery are accepted and delivery can be arranged.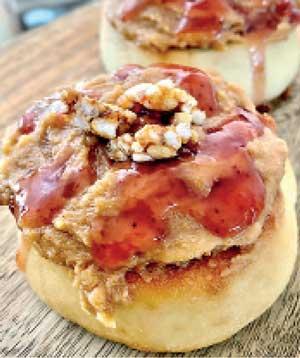 How are you ensuring the proper hygiene measures are taken in preparation and delivery?

I personally prepare the orders and ensure that all safety measures are followed when bringing ingredients in, wiping them down before storage, storing at the right temperature etc. Most of my clients pick up their orders as well, so there isn't a third party involved with the delivery, and I deliver through a known driver, on the request of some of my clients. I also encourage payments through bank transfers as well, to minimise the handling of cash.
What do you enjoy about bakingand operating your own home

baking business?

I love experimenting with new flavours and doing variations of the classic. For instance, my cinnamon rolls are available in flavours such as Nutella, Caramel Pecan, Dulche de Leche and Oreo. I also tried a Boozy Pani pol and Coconut roll for Avurudu and a Date and almond roll for the Eid season. I have found that those flavours have stayed on beyond the season. Similarly, whilst doing the classic blueberry muffins with a lemon glaze, I also tried out a banana, cashew and jaggery muffin during Avurudu. Creating these innovative combinations are really exciting, and it's great to hear the feedback from my customers on them as well.

How do you see home bakers going forward post Covid?

Due to the threat of Covid, most people tended to favour ordering from home-bakers over commercial establishments, and I think this helped in people trying out my product range. However, once your clientele is established, I don't see any reason for this to change, because in addition to the safety measures we take, people come back and order when they like the quality of the product that is being offered. This is the reason I don't compromise on the quality of ingredients I use.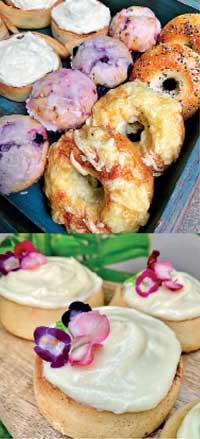 What does 2021 hold for your brand?

Well, I currently manage out of one domestic-use oven, so managing multiple orders can be very challenging, with having to bake many batches on busy days. To start with, I see myself getting
a second oven, and then let's take it

from there…

Any advice to anyone who wants to start their own business?

Believe in your product, get out there and make it known, and if it is good, it will most-certainly take off. We have the advantage of social media today to make our product known, but thereafter, it is word-of-mouth that is the most effective form of marketing.
Chums Bakes take limited pre-orders via Facebook or Instagram (@chums_bakes) during these Travel Restrictions. Bank Transfers and Cash on Delivery are accepted and delivery can be arranged.