---

With the onset of the COVID-19 pandemic in 2020, it was a trying year for most businesses, restaurants being one of them. Many businesses had no choice but to shutdown whilst others manged to keep their businesses alive. Harpo Gooneratne, a popular figure in the entertainment industry has many popular restaurants too. In 2020 he was to celebrate his 40 years' in the industry and his amazing career. All plans had to be shelved owing to COVID-19.

In conversation with him recently on how his restaurants managed to survive in 2020, he told me the following.
He kept updating his staff on the situation at regular group meetings and educating and updating them on the importance of adhering to the safety and health guidelines introduced from time to time by the Ministry of Health. Such safety guides became an additional expense towards the upkeep of all his establishments.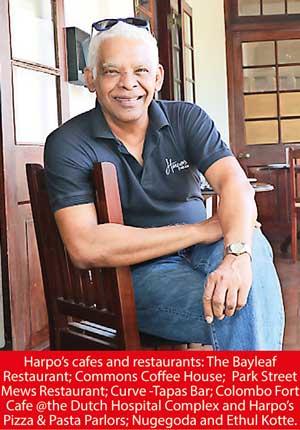 The working hours had to be reduced to maintain job security. Favourable negotiations had been reached for temporary reduction of rents with all his landlords. They were also able to negotiate better interest rates with the banks based on their past performance. Harpo found the banks to be incredibly supportive of his efforts to keep his business alive. His partners too were empathetic to overcome this challenging period. The menus were revised and reduced according to the inventory and shared among the group.

Having been in the food industry for the past 15 years, negotiating with the vendors on revised payment plans was not too difficult and he found that they were encouraging and happy to continue the supplies to operate the restaurants. In his favour, Harpo did not have to take any bank loans or relief to support the business. From the beginning of the pandemic Harpo had focused on promoting the delivery of their food to homes, which has now become the new norm. They also took the opportunity to expand the range of Harpo's fresh pastas, sauces, frozen pizzas and introduce many other new products that are now sold in all leading supermarkets.

It has been a tough year and will continue to be so said Harpo. But he is very optimistic and his cheerful disposition will keep the business alive. Like everybody else, he hopes that this pandemic will soon be over and life will get back to normal.

Tough times certainly brings out the best survival instincts in people as well as the support of loyal customers who will always be there for you.
In 2020 he was to celebrate his 40 years in the industry and his amazing career.