---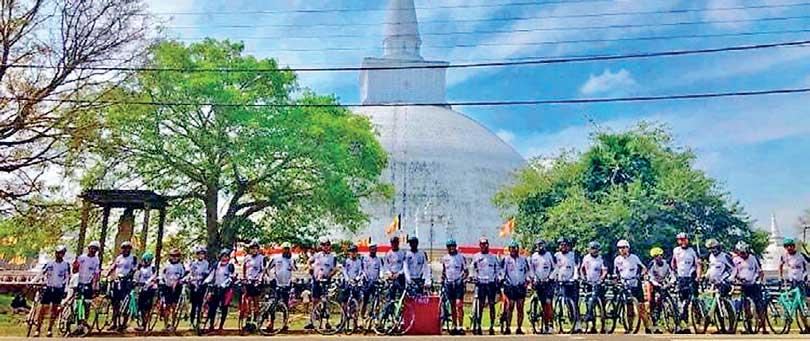 'Ride4Ceylon' an annual charity cycle ride through Sri Lanka will be flagged off on February 26, 2020 with 45 riders from overseas and the homeland riding for a common cause. The Ride kicked off in 2016 with an objective to raise funds for the Manipay Hospital in Jaffna. Believed to have been the 'Colombo 7' of the Northern Peninsula during yesteryear, Manipay had been bustling with life. But people couldn't get maximum use out of its establishments such as the Manipay Hospital due to the tsunami and the ethnic conflict. However, since 2017 the hospital has been getting its much deserved facelifts and new units from funds raised through this project, benefitting those in Jaffna as well as in faraway destinations such as Kandy and Nuwara Eliya as well.
"In 2016 a couple of Thomians got together and decided to do something for Sri Lanka," recalled David Rasiah, co-organiser of the project. "One of them was particularly interested in riding. The idea was to ride from Colombo to Jaffna. The Founder of this project is Michael Arnold who at the time was already helping the hospital since it was part of their church. In the first year there were five riders who set a target of £5000 but raised £12,500. The initial ride happened in 2017 but at the time my daughter was ill.

She died in July that year and thereafter I got involved with the project." From raising £12,500 the cause had gotten bigger and better. "This time we had around 70 riders registered from around the world but we can't cope with that many. We can only accommodate 45 since we are going through Mannar. If you're an overseas rider you need to collect £1000 and the donation goes straight into the Friends of Manipay account. Ride4Ceylon is a phase and the charity we belong to is the Friends of Manipay Hospital which is UK-based.

There are five trustees and it's maintained by the UK Charity Commission and all transactions are transparent. Therefore you pay directly into it and the sister charity in Sri Lanka is the Institute of Medical Sciences. If you're a Sri Lankan rider you can directly deposit to this account. In addition to that you need to collect another £250 for expenses. But the beauty of the cause is that we get sponsored by the hotel and that money also goes to the charity."
This year the riders will start off from Colombo and reach Chilaw on the first night and Kalpitiya on the second

The 2017 ride supported neuro rehabilitation services and the renovation of the nurses' quarters. "During the second year we raised money to establish the drug and rehabilitation unit. Last year we set a target of £25,000 but raised £100,000 because we tied up with Lord Taverners, the Lord's Cricket Club charity and Sydney Football Club who gave us £35,000 worth sporting gear. We distributed the equipment islandwide. As such, while helping the hospital this is also an opportunity to bridge the North and South. People in Nuwara Eliya and Kandy are travelling to this hospital since they can't get appointments in Colombo. This year we are planning to open the Gabriella Rasiah Paediatric Ward in memory of my daughter. That is a small unit and we can't give emergency care. I want to build around 10-20 rooms because if someone comes from Galle they can have residential facilities.
Another rider Stanmore Anandarajah from Canada has given money to set up the Hope for Cancer Ward in memory of his wife and we are aiming to give alternative care for cancer patients. It would be the next project after the paediatric ward."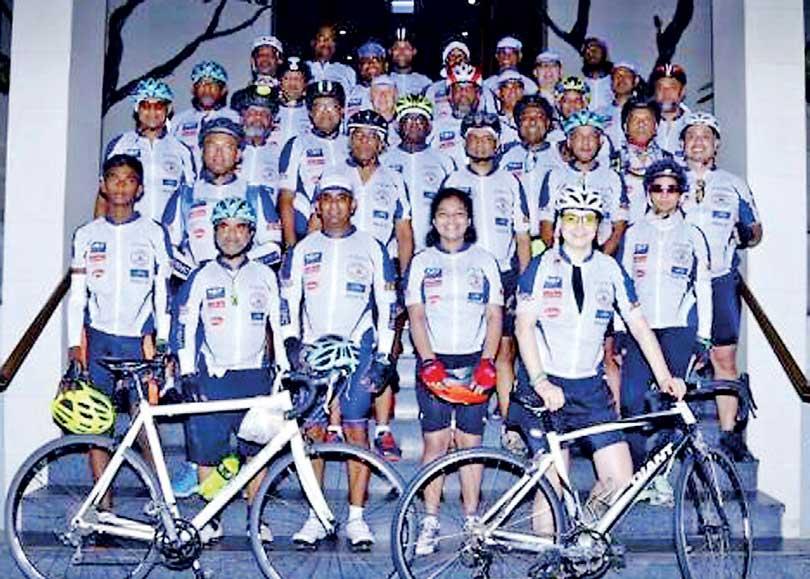 This year the riders will start off from Colombo and reach Chilaw on the first night and Kalpitiya on the second. From there, they will traverse the waters by boat and reach Eluwankulam to be picked up for their stay at Governor's Camp. Thereafter they will switch to mountain bikes and experience a 36 km trek through the Wilpattu jungle before switching back to normal bikes to continue the journey to Mannar and eventually to Jaffna. "During the ride we promote visiting cultural and historical sites while also trying to give a boost to local businesses," he added.

"While in Wilpattu the riders will also go on safari. This time we plan to have a papare band and make it more unique for the foreigners. We also decided to give away medals to riders and helpers to remember that they participated in it. My vision is to establish Ride4Ceylon as a national event as big as the London Marathon, with around 100-200 riders riding through Sri Lanka to raise funds for the cause. In 2021 we are planning to move it to Sydney as well."
The 2020 ride includes around eight or nine girls and the organisers also encourage riders' children to participate free-of-charge. This year's ride anticipates participants from Sri Lanka, India, UK, Ireland, Australia, Canada, France, Romania and USA. The Riders will also be joined by the Sydney City Tatts Cycling Club who will be sending a team from Australia including their CEO. The ride will be flagged off at Jetwing Colombo Seven and will continue till February 29, 2020.
Donations could be made via www.ride4ceylon.com or Institute of Medical Sciences Trust, Commercial Bank of Ceylon PLC, Jaffna Branch, Account No. 1060111500.