---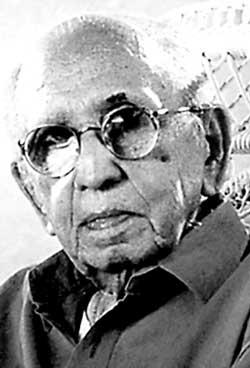 The 102nd birth anniversary of globally renowned legendary moviemaker Dr. Lester James Peries falls today, April 5.

Born on April 5, 1919 in Colombo, Dr. Peries was persuaded by his parents to prepare himself for priesthood but the old boy of St. Peter's College, Bambalapitiya, by his own choice preferred to pursue his interest in theatre and films.

During his six year stint as a journalist in London from 1946 to 1952, Lester cultivated his interest in films with great sincerity and commitment. Having joined the Government Film Unit (GFU) as an assistant director on his return to Sri Lanka, Lester worked under prestigious names like Ralph Keene and learned a great deal on the art of filmmaking. He made a number of documentaries at the GFU, but all the while he had been nursing the plot of a story that became a reality when he made his debut film 'Rekhawa' in 1955.

From then on he began to understand the pulse of the people and made films that were embraced by the country's film goers who were till then largely used to films made with some Indian influence.
As a journalist in London, he cultivated his interest in films with great sincerity

Among the memorable works of the undisputed biggest brand name in the local film industry were Rekhawa, Sandeshaya, Gamperaliya, Delowak Athara, Ran Salu, Golu Hadawatha, Akkara Paha, Nidhanaya, God King, Desa Nisa, Madol Duwa, Weera Puran Appu, Kali Yugaya, Pin Hami, Baddegama, Yuganthaya, Awaragira, Wekande Walawwa and Amma Warune.
The key words in Lester's work philosophy were loyalty and commitment. And this trait was seen even among team members who worked in his films.

The legendary filmmaker passed away on April 28, 2018.

text: ru