---
The Batticaloa suicide bomber had reportedly targeted the St. Mary's Catholic Cathedral, but failed in his attempt as the Easter mass had ended early.
The male suicide bomber, identified as 'Umar' from the eastern town of Oddamavadi, blew himself up in the Zion Church in Central Road, Batticaloa at around 9 am just as mass was to start, claiming 28 lives, including 14 children, and injuring scores more.
Church sources and residents said a suspicious character had first gone to the St. Mary's Catholic Cathedral on the same road opposite St. Michael's Boys' school at 8.30 am and had made inquiries about the mass there. This was confirmed by Batticaloa Bishop Rt. Rev. Joseph Ponniah.
A catholic priest said the suspect had been seen lurking around the Cathedral the previous day as well. "The priest in charge had called the Easter Service early, and began at 7 am instead of 7.30 am. By 8.30 am most of the congregation had left," he said, adding that about 1000 persons had attended the catholic mass on Easter Sunday.
When the suspect learnt that the Catholic mass had ended and that most of the congregation had left, he had made his way to the smaller Zion Church about 50 metres down the road. At the Zion Church he had identified himself to Pastor Ganeshamoorthy Thirukumaran as 'Umar' from Oddamavadi.
The pastor said the suspect was carrying a shoulder bag and was clutching another bag to his chest, and looked to be in his 30s and was of medium height. (Gihan de Chickera)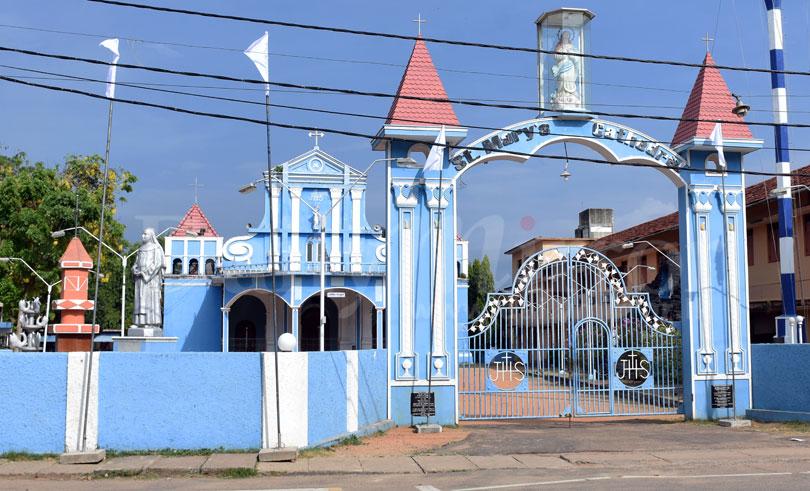 St. Mary's Catholic Cathedral
ic by Kushan Pathiraja