---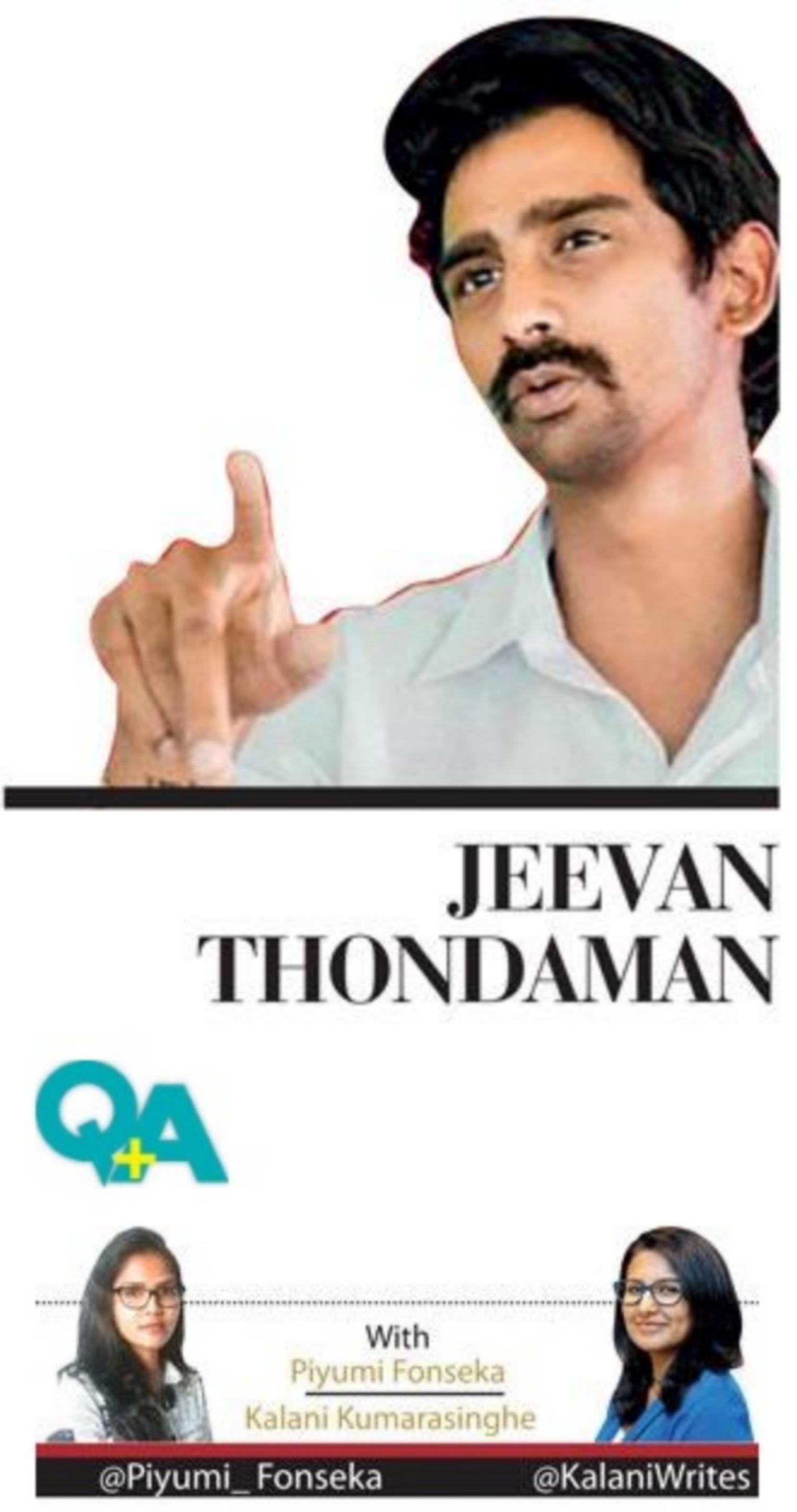 Jeevan Thondaman (25) was nominated to be the Nuwara Eliya District candidate at the upcoming General Election after his father, Arumugan Thondaman, leader of the Ceylon Workers' Congress (CWC), suddenly passed away at the age of 56.
Q

Your educational and professional qualifications?
Bachelor of Laws - University of Northumbria, UK



Q

Why should people vote for you other than for being the son of Arumugam Thondaman?

I may be the son of whoever. But, at the end of the day, people need to accept me for who I am. I am fortunate to have support from the elderly, children and as well as the youth. I have also given them the right to question me on anything. However, if they don't like me, my principles and my politics, they won't vote for me. If the people believe that I would solve their problems, they will vote for me



Q

If more and more sons and daughters of top politicians get tickets, how do you think self-made young politicians can join?

I don't think it is easy for daughters and sons of politicians to join politics. In Asia, the culture of family politics, has existed for centuries. But, if you notice, not all the political families have been successful. Some heirs of political families have failed because people have rejected them. In my case, I never even came to a political office when my father was alive. I decided to listen to people's and my party's requests after my father's demise. As I said earlier, if people up-country did not like me, they would have rejected me despite me being the son of their leader.
Q

When it comes to estate workers' issues, a majority of estate workers' children have no quality higher education opportunities and employment options. What is your plan for their education?

Estate-based schools are not up to the standard of normal schools. Students and even teachers don't have access to modern technological ways of education. Those estate schools also lack infrastructure. In some schools, students in different grades are studying in one classroom. They need to be developed and brought on par with modern standards.
If we improve the economic stability of these families, more students will be able to consider continuing their education and dream for a better future. Speaking of that, my father had asked the government to build a university in the up-country. Hopefully by next year, the government will start work on the university which is planned to be built in the Kotagala-Hatton area.
Q

Every tea estate worker is supposed to pay Rs.150 per month as the contribution to trade unions. Even teachers pay only Rs.20 per month towards their trade unions. Don't you think it is unfair to charge such an amount from estate workers when many of them are already struggling to fulfil their basic needs?

Teachers are government workers. Therefore, they have a protection mechanism, which is the government. But, estate workers have no such mechanism. Workers still live under colonial standards. However, my father wanted to stop this subscription scheme eventually. I will fulfill his wishes in future. Meanwhile, I also want to add that our party has 48 offices all over Sri Lanka. People working in those offices are also mostly from estate families. Therefore, we need to look after them as well from these subscriptions.
Q

There was an uproar over the way quarantine laws were applied during your father's funeral. Do you think there were mistakes that happened while organizing the funeral parade?

People in up-country adored him so much that we could not perform his last rites in Colombo without bringing him to the villages. I admit that there was an issue at the starting of the funeral parade as a crowd gathered. They were overwhelmed by grief at their leader's demise. After noticing their behaviour, we as the organisers tried our best to control them with facilities we had at that time. Even though politicians allege that we breached quarantine laws, after fourteen days of my father's funeral, only two people in our area were under observation. There were no COVID-19 positive cases reported in our area.
Q

What is your vision for the protection of the environment and climate change adaptation?
First of all, from the political point of view, I want to say that I don't approve of this political poster culture. Since it has been the norm from the time known, it is not something we can stop overnight. Nonetheless, I believe that this culture gradually needs to see a stop. Moreover, I also think we need to increase social awareness programmes on the importance of protecting the environment. Strict laws on plastic and polythene use are also the needs of the hour in our country.
In up-country, there are a lot of leopard poaching activities taking place. Diversity in wildlife is one of the main strengths of the up-country. Therefore, we have a huge responsibility to protect our wildlife. We should not talk about these environment issues only during an election period.
Q

What are your views on discrimination based on sexual orientation?
I don't think there should be any kind of discrimination based on a person's sexual orientation or sexual preferences. It is their own lives and their own choice. In fact, discriminating a person based on his or her sexual orientation should be a crime in my opinion.

Q

Highlight of your manifesto?
My manifesto, released on Tuesday (14) focuses on education, health and economic revival. As a matter of fact, my priority is for the third factor which is economic revival. If you look at the up-country, tourism industry can definitely play an important role in reviving the economy and it is something not many politicians have looked into. If we are able to launch a few government-funded projects, not only will we be able to give more jobs to people, but also contribute to the Sri Lankan economy. Another area I want to focus in my political journey is self-employment.