---
Himaya Niyas is a Colombo district candidate representing Independent Group 10. She is an active social worker and an entrepreneur in the beauty industry, who also trains youth through an entrepreneurship training programme at the Maharagama Urban Council.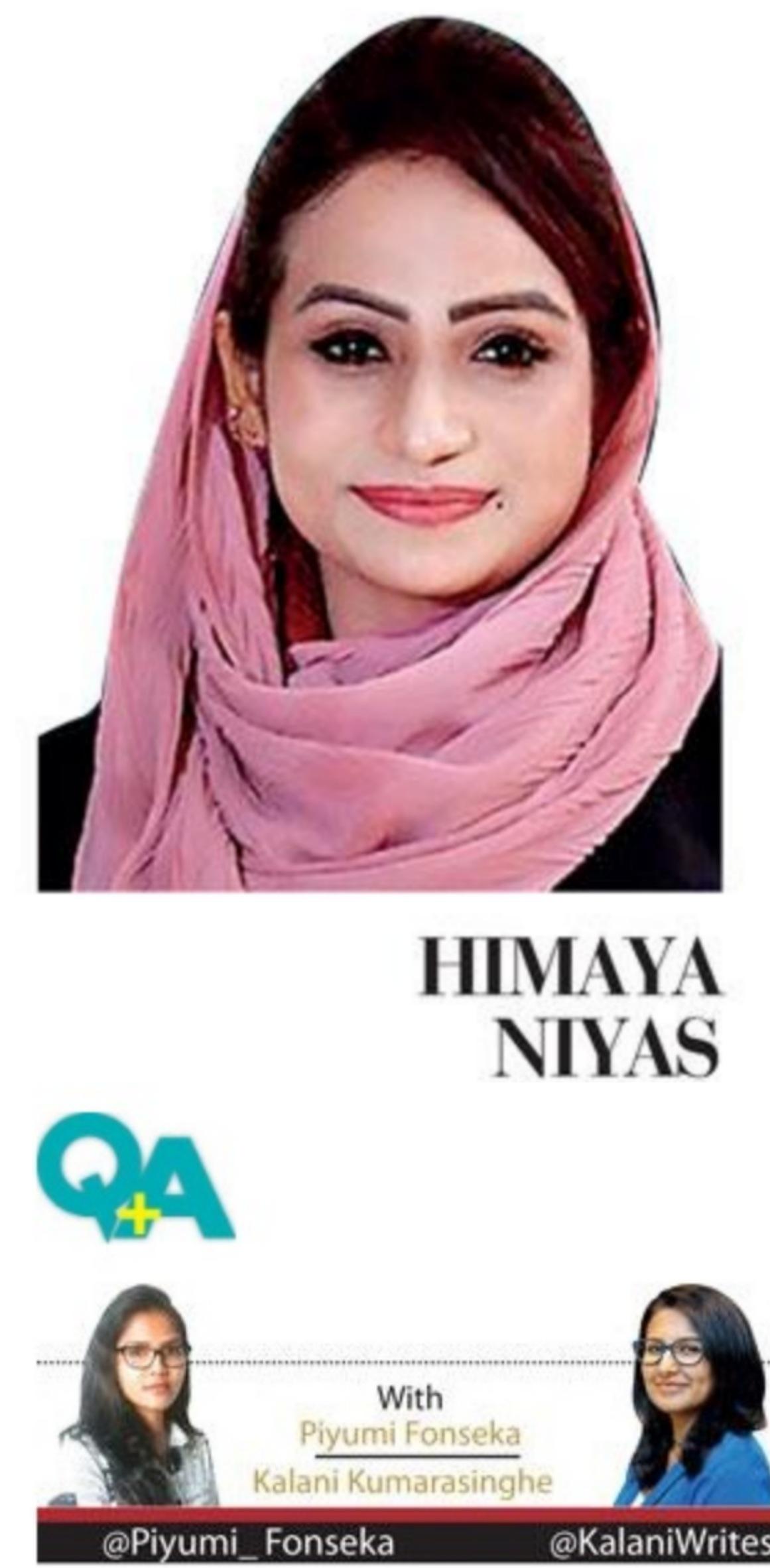 Q Your educational and professional qualifications?
I have completed my secondary school education, sat for the Ordinary Level and Advanced Level Examinations. I'm a qualified beautician, with my own business. I have been training in this field since I was 18 years old.
Q What influenced your decision to contest the election?
Even though I work in the beauty industry, I was completely dedicated to social work. Through my work as a beautician I have met a lot of women, who seemed to have constant issues. I have often helped them, mediated in some issues, advised them, helped when they fall ill and sometimes I have even helped them financially. Gradually there was a small crowd around me.

I was then offered the opportunity to represent women of my electorate, which I accepted.

As a social worker I didn't feel like I needed to contest an election to do my work. I was worried that people may misunderstand my social work as a campaign for elections. But a lot of people I had helped along the way, volunteered to organise meetings and canvass for the election with me. A lot of people have gathered around me to support my decision.
Q What is your vision for children and youth?
First of all I would look at the street children issue in Colombo. There are children in some areas who have absolutely no education. Their clothes are worn and torn. We have this idea that Colombo's people are from well-to-do and middle class backgrounds. That's false.

There are streets in Mattakkuliya or Kolonnawa, suffering in poverty. When parents are not educated the children in these areas are also not educated. Even though education is free, some parents are not even knowledgeable enough to enter their children to the school system. If these problems are not addressed at the correct time, it leads to our youth either wasting their potential or drifting towards substance abuse. We need to change this and appoint people to look into their welfare at the community level. That is what I would do first if elected.
Q Don't you believe that the Grama Niladhari is capable of addressing at least some of these issues?
If the Grama Niladhari officer was capable, these people wouldn't be suffering as much. But these are just appointments, there are transfers and they have a separate body of work. What I wish to see is for another person or a committee to be appointed in order to supplement the
Grama Niladhari's work.
Q What are your thoughts on community development?
I wish to see at least a 75% engagement of youth, for the betterment of their own community. I was recently asked by a young girl if I could get the sewers in her area cleaned. I made her an offer. I asked her to organise a group of young men and women of her area to initiate a shramadana campaign to clean the sewers. I promised a team of workers from my end as well, as long as the community and the youth too were interested and involved in maintaining the cleanliness of their surroundings. I believe it is important to inculcate a work ethic and culture where we try to solve our problems with some help from others. Free services can be taken for granted.
Q Have you ever reconsidered something that you wanted to do because you are a woman?
Not at all. I have reached where I am gradually. I don't take these things as a challenge. Instead I look at them as achievable goals.
Q Do you think we need more women participating in politics?
Only a woman can relate to another woman's needs. As women are an important unit in the family set up, they tend to have a different approach to solving problems than men. Many of the problems experienced by women can be solved with the help of another woman. We need more women to speak up. I believe more Muslim women should participate in politics as well as social work. This is what I wish to support.
Q Why should people vote for you?
Your vote is at your discretion. I won't ask the people for their vote. Perhaps they may not even vote for me. But whatever amount of votes I receive I will gladly accept to continue my work for the people.