---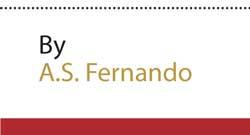 The Girdle of Venus is a line that rises from between the fingers of Jupiter and Saturn and proceeds in a semi-circle under the Mounts of Saturn and Apollo. It may also originate from the Mount of Jupiter and end on the Mount of Mercury or extend to the percussion.

It is in part, a Sister line to the Heart line and in some cases when the Heart line is absent, this line takes its place.

This is a line frequently seen in all types of hands.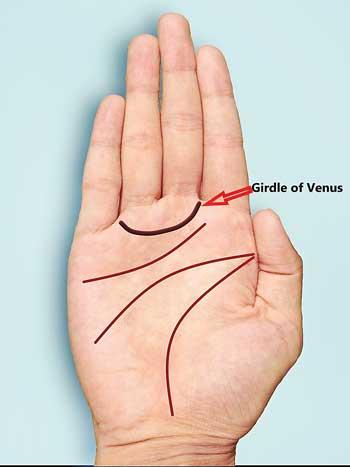 The renowned palmist Pschos says that this line is a subject of much misconception and many palmists look on it as a reflection of the morality of the subject. He says his experience bears out that its presence as a rule does not indicate immorality (licentiousness), but in most cases it indicates highly sensitive and nervous nature of the subject.

According to Desbarrolles hailed as the father of the science of Palmistry in the Western world, the Girdle of Venus indicates those vicious habits generally develop at the time of puberty. These habits have been considered as arising from nervous, half-hysterical troubles concomitant with the transition from boyhood or girlhood to manhood or womanhood. He says certain hygienic measures and the wholesome influence of the father or the mother calling upon the tempted child to master the evil desire may conquer the vicious learning. In such a case, the Girdle of Venus does not appear in the right hand and it appears only in the left hand. This indicates a case of a properly direct will power overcoming the animal instinct.

The celebrated Palmist Cheiro says that he has never found the Girdle of Venus to indicate sensuality so generally ascribed to it. He says that this line indicates a highly-strung nervous temperament. Studies have proved that the Girdle of Venus is as a rule associated with highly intellectual natures, but natures indicating changeable moods, like getting easily offended or touchy over little things.

If the Girdle of Venus comes in contact with the line of Marriage, the happiness of the marriage would be marred due to the peculiarities of the temperament. Such subjects are very exacting and demanding and make uncomfortable partners. When it is present in a man's hand, he would want his wife to have as many virtues as are stars in the night sky.

Leading Indian Palmist Dr. Narayan Dutt Shrimali, in his celebrated work, Practical Palmistry describes the Girdle of Venus as the Ring of Venus. He says those having this line suffer from diseases associated with the nervous system. They are very materialistic in their outlook, experience mental worries and they never get peace of mind in their life.
( To be continued)