---
Natal Solar month and Sun Sign – Part 09

The Sun moves in the Zodiac sign of Sagittarius from about November 16 to December 15 and those born during this period are greatly influenced by the characteristics of the Sagittarius sign even if their Lagna or the sign rising from the horizon at the time of birth is another sign.

The symbol assigned to this sign is a man riding a horse with a bow and arrow in his hands.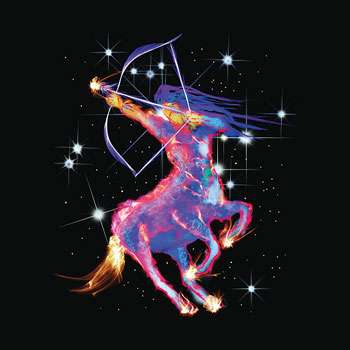 Possess a keen perception and a brilliant intellect
Sagittarius people possess a keen perception and a brilliant intellect. They are outspoken, honest and even-tempered.

Sagittarius people are decent and refined and they are disciplined. Therefore, their conduct is non-abrasive. Their instinct or the Extra-sensory perception (ESP) is very keen and strong. They are gallant, bold and flamboyant.

Easily make friends
Sagittarius people easily make friends because of their cordial nature. They are idealistic and do not allow their head to rule their heart in making decisions. They are very strict in choosing a partner and would even break up an engagement already made if the proposed spouse is found not up to expectations.

Sagittarius people are very affectionate, but they do not demonstrate their love and affection. Therefore, others very often look on them as being cold-blooded.

Eldest child, a source of anxiety
Sagittarius person would have few children and the eldest would turn out to be a source of anxiety to him. They would not be prosperous in early years and success would come to them after middle age.

Successful clergymen, politicians, administrators and bankers
Sagittarius people do well in life as clergymen, politicians, administrators and bankers. They love travel. They would not succeed as gamblers. They should shun gambling for they are sure to incur heavy losses.

Prone to Sciatica
Sagittarius people normally enjoy robust health. But under stress, they would suffer from nervous disorders. They are prone to Sciatica and ailments that affect the hip, thighs and
muscular system.

Ideal life partner from same sign, Aries or Leo
Sagittarius people can look forward to lasting marital happiness with a spouse of the same sign, Aries or Leo.