---
Children born between April 20 and November 6 this year


According to the current configuration of planets in the celestial map, Zodiac, three of the nine planets have gained special strength due to the specific nature of the three signs in which they are transiting these days. The Sun has gained exaltation in Aries, Venus Swakshetra (own House) in Taurus and Mars exaltation in Capricorn. Swakshetra or exalted planets other than the Sun and the Moon give rise to certain auspicious yoga when they are placed in quadrants (Kendrasthana) and in certain other Houses in an individual Natal Chart (horoscope).

Venus in his own sign and Mars is in exaltation.
Venus is due to transit in Taurus from 02.07 hours on April 20 to 20.48 hours on May 14 and Mars in Capricorn from 16.17 hours on May 2 to 08.23 hours on November 6. Therefore, children born between these two periods will be fortunate enough to benefit from the auspicious yoga arising due to Venus being placed in Taurus which is his own sign and Mars in Capricorn which is his sign of exaltation.

Special auspicious yogas
The auspicious yoga which the children to be born during the above-mentioned durations include two of the five Maha Purusha Yogas, Malavya Maha Purusha Yoga and Ruchaka Maha Purusha Yoga, Amala Yoga, Harsha Yoga, Sarala Yoga and Vimala Yoga.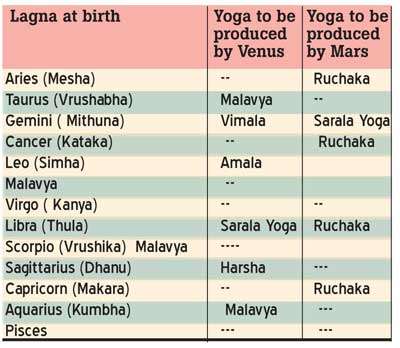 The yogas the newborns between the above mentioned two periods are to get fortified with, are shown in the inset table.

It is noteworthy that those born into above Ascendants will benefit from the yogas mentioned above only when Venus passes through Taurus from April 20 to May 14 and Mars through Capricorn from May 2 to November 6.

How these yogas are formed and benefits they bestow on a person are described briefly below.
Amala Yoga: Amala Yoga arises when a benefic like Jupiter, Mercury, Venus or Moon is placed in the 10th House of a horoscope. This yoga makes the native a person of integrity and high principles. He will possess sterling qualities. He will enjoy wealth, fame, career success and high status in society.
Harsha Yoga: This yoga is formed when the lord of the 6th House is placed in the 6th House itself at birth. A person fortified with yoga at birth will enjoy good health. He will be free from debts. No enemy will harm him. He will have a good family life and will command respect and influence in society and may occupy a position of authority. He will be wealthy.

Malavya Maha Purusha Yoga: Venus placed in a quadrant (Kendrasthana) at birth gives rise to this yoga. A person born with this yoga is blessed with a charming and magnetic personality. He will lead a life of comforts and luxuries. He will shine in a field of arts and his fame will spread far and wide.
Ruchaka Maha Purusha Yoga: Mars posited in a quadrant in a horoscope produces this yoga. Native born with this yoga will possess great strength, courage and bravery, power and influence. He will possess leadership qualities. He will enjoy material comforts and long life.

Sarala Yoga: The lord of the 8th House being placed in the 8th House itself leads to the formation of this yoga. Native fortified with this yoga at birth will be wealthy, healthy and will enjoy respect and influence in society. He is inclined to seek spiritual advancement.

Vimala Yoga: The placement of the lord of the 12th House in the 12th House itself results in generating this yoga. The person born with this yoga will be wealthy, healthy and will have a happy family life. He will have an altruistic bent and will be generous towards the lesser fortunate. He will have a positive outlook and a keen perception. He will steer clear of sinful acts. He will be very frugal-minded. He will be renowned for his good qualities.