---
Read your fortune by the Yogas formed on your palm – Part 4

We propose to discuss a few more favourable Yogas formed on the palm in this article.

Gandhara Yoga: The characteristics that combine to form this Yoga are: The Mount of Venus is well developed on both hands; there is a mark of a square on the mount; both the Mount of Sun and the line of Sun are prominent.

Result: A person endowed with yoga is either a great musician or a singer. He devotes the entire lifetime to master the art and practice it. He gains international fame. He acquires wealth as well. The native is so fortunate as to be able to fulfill all his needs in life.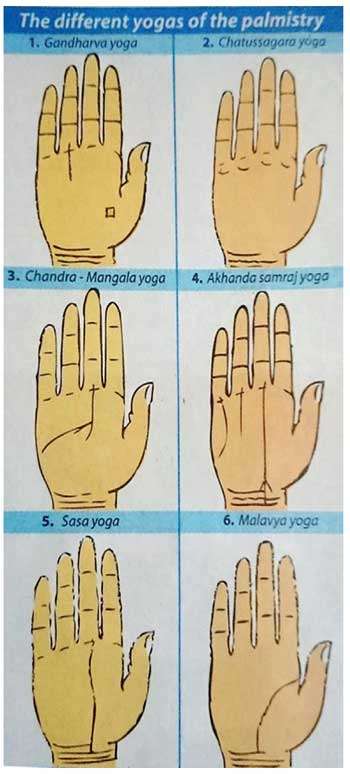 Chatussagara Yoga: This Yoga is produced when all mounts are well developed and all main lines clear and distinct.

Result: The subject achieves fame and success through his own efforts. The society or the community looks up to his leadership. He becomes either a respected social worker or a politician. He has a forceful voice which easily attracts the attention of others and possesses oratorical skills to win over and influence people. He earns fame in foreign countries. He is devoted to his family.

Chandra-Mangala Yoga: This Yoga is formed when there is a Moon line proceeding to meet either the Mars line or the Fate line.

Result: The subject is prosperous and leads a happy life. He is very shrewd in his dealings with relatives and business partners. He would be in intimate terms with many women.

Sati Yoga: A woman who has a well-developed Mount of Jupiter and healthy and well-formed long fingers is blessed with this Yoga.

Result: The woman is devoted and faithful to her husband. She is virtuous. She devotes her entire life to fulfilling the desires and needs of her husband.

Akhanda Samarajyapati Yoga: The features that combine to form this Yoga are: Fate line proceeding to the Mount of Saturn after forming a sign of a fish at the bracelets; a long, thin and narrow Sun line originating from the Mount of Moon and touching the Mount of Mercury, well developed Mounts of Sun, Saturn and Mercury and a long reddish palm.

Result: The subject gains fame due to his good deeds. He is a social reformer and an expert in his chosen field. He is bold and courageous. He would become even the leader of a nation.

Sasa Yoga: A person having three bracelets, a well-developed Mount of Saturn, and a Fate line proceeding after forming a sign of a fish at the bracelets is a beneficiary of this yoga.

Result: The subject even if born into a poor humble family would rise to a high position. He would hold high political or other office which gives him power over others. He would be a leader of the community and may rise to the position of the leader of the nation. He is simple, unassuming, kind and considerate.

Malavya Yoga: If the Mount of Venus is neither flat nor much elevated, and it is bright and healthy while there is a Life line making a wide curve reaching the bracelets giving ample space for the formation of the Mount of Venus, a long Thumb turned backwards, a Mount of Venus with no interfering lines, nets or spots, the subject is a beneficiary of this Yoga.

Result: The subject is very handsome and possesses a magnetic personality. He is charming and attracts others. He is very intelligent. He has many sources of income and vehicles for comfortable travel. He leads a happy life. His achievements make him famous in his country and abroad. Persons endowed with Yoga are usually poets, great painters, musicians and dancers. They are kind and generous.