---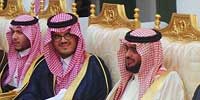 Kuwait's public prosecutor has asked an appeals court to increase a sentence handed out to three royals for insulting authorities in the Gulf state from five years to 29, according to remarks published Monday.
Dherar al-Asoussi said he had petitioned the court to also convict the men of using social media to insult the ruling Al-Sabah family.
A lower court last month sentenced the three royals, including a ruler's nephew, and two others to five years in jail for insulting top judges online.
The court also sentenced a sixth man to a one-year term and a another for 10 years in absentia. It acquitted six others.
All the men were acquitted of a charge of insulting the emir.
But Asoussi told Al-Qabas newspaper that he has challenged the rulings and demanded that all 13 defendants be given harsher jail terms of 29 years each for insulting the emir, judges and spreading false news about Kuwait. (AFP)