---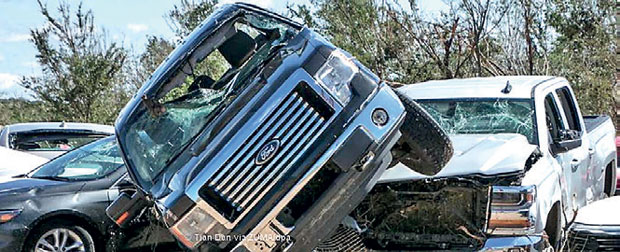 Washington (dpa) May 01, 2017-
Powerful storms that generated flooding and tornadoes across the south-central United States killed at least 12 people at the weekend.

The National Weather Service said multiple tornadoes ripped through central Texas on Saturday.
The town of Canton, located about 80 kilometres east of Dallas, was especially hard hit. Mayor Lou Ann Everett said Sunday at least four people died and almost 50 others injured, according to local media. The fire department said the death toll could rise as people continue to comb through the debris. Dozens of cars were reportedly tossed in the air on the interstate that runs through town.
In Arkansas, a 10-year-old was found dead after being swept away in floodwaters.

A woman in Arkansas was killed when a tree toppled onto her house during a storm, while a 24-year-old died while floating in a stream on an inner tube, the Democrat-Gazette newspaper reported.