---
FBI Director James Comey is expected to officially undercut President Donald Trump's claims that he was wiretapped by the Obama administration during testimony before Congress on Monday, according to ABC News.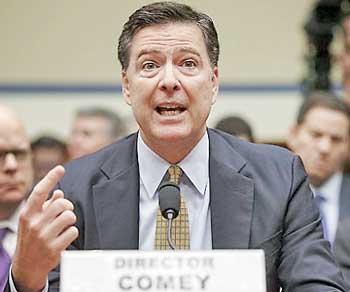 Citing people who are familiar with Comey's thinking, the FBI director will likely make US law enforcement's most public rebuke to date of Trump's allegations.

Comey is set to testify at a rare public hearing on Monday about alleged Russian meddling in the 2016 presidential election. US lawmakers from both parties said on Sunday they had seen no proof to support the claim by Trump, adding pressure on the president to explain or back off his repeated assertion. Several Republicans last week urged Trump to apologize for the allegations he made in a series of tweets on March 4. The maelstrom also caused tension with key US allies and threatens to distract Republicans from campaign promises on health care and taxes.The Justice Department on Friday delivered documents to congressional committees to help clear up whether the Obama administration spied on Trump.

Trump's claims widened to two of the US's staunchest allies. He repeated an unsubstantiated claim that Britain's cyber intelligence organization conducted the surveillance at Obama's behest, a claim the agency GBHQ flatly denied; and mentioned during German Chancellor Angela Merkel's first visit to the Trump White House the Obama administration's monitoring of Merkel's cellphone, a bruising incident in German-US relations.

WASHINGTON,
(Daily MAil, US), 20
March 2017