---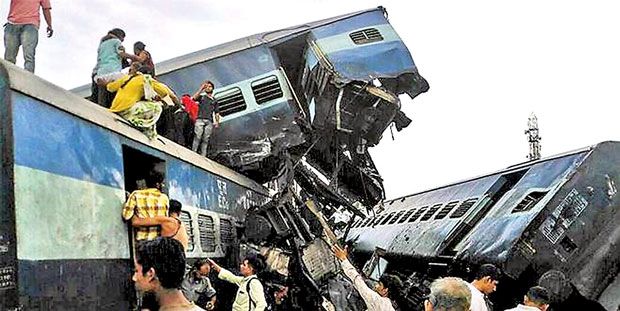 At least 23 persons were killed and around 400 injured when 14 coaches of the Puri-Haridwar Utkal Express derailed on Saturday evening at Khatauli, near Muzaffarnagar, Uttar Pradesh police officials said.

It was 5.46 p.m. on Saturday when the Haridwar- bound train derailed immediately after it crossed the Khatauli station.

National Disaster Response Force (NDRF) personnel told The Hindu that the number of dead could rise as several passengers were still trapped in the wreckage. Officials said 100 persons were seriously injured. Rescue operations have slowed down after darkness.

The Railway Ministry is yet to comment on the reason for the accident but the impact of the accident was strong enough to send a derailed coach crashing into a house in Jagat colony, a railway colony next to the tracks.

Senior Railway Ministry officials present on the spot told The Hindu that "though the investigation was yet to be concluded but preliminary probe suggests that the driver of the Kalinga Express had applied sudden breaks as he found repair works going on the track which led to the accident.

This is the second serious train derailment case in Uttar Pradesh in the last few months. In November last year, 14 coaches of the Patna-bound Indore-Rajendranagar Express train derailed in Uttar Pradesh, killing 152 passengers and injuring 183.
(The Hindu), August 19, 2017 -