---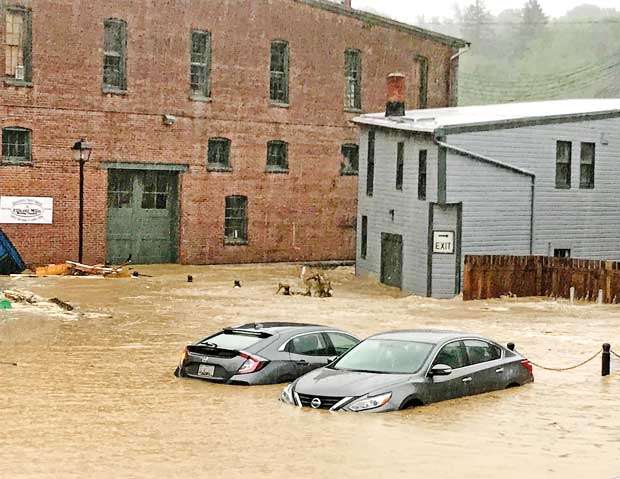 By Justin Jouvenal, Michael E. Miller, Allison Klein · (c) 2018, The Washington PostMay 28, 2018 - A flash flood raged through historic Ellicott City, Maryland, on Sunday evening, sending residents and tourists scrambling for higher ground and sparking a massive response by rescuers.

Maryland Gov. Larry Hogan, R, announced he had declared a state of emergency in Howard County and huddled with emergency officials to assess the extent of the damage, which was not fully known. No injuries were immediately reported.

The National Weather Service called the flooding an "extremely dangerous and potentially catastrophic situation" as the rains pounded the city Sunday evening. Amid the flooding, the Howard fire department warned people trapped on the city's Main Street to climb to the second floors of buildings as they awaited rescue and said the damage could rival devastating flood that occurred there in 2016.

Officials said there were reports of collapsed buildings. Hundreds of rescuers had converged from as far away as Northern Virginia, officials said, and Howard opened an emergency operations center to manage its response.

Videos taken on Ellicott City's Main Street show roiling brown water flowing down, carrying debris and trash. The water spilled into doors and windows and twisted traffic lights. Some people on Twitter reported seeing cars floating down streets.

Jeff Halverson, professor of meteorology at the University of Maryland Baltimore, said the storm could drop 10 or so inches of rain total before it wound down. He said he thought the flooding could ultimately be worse than what was seen in Ellicott City in 2016.