---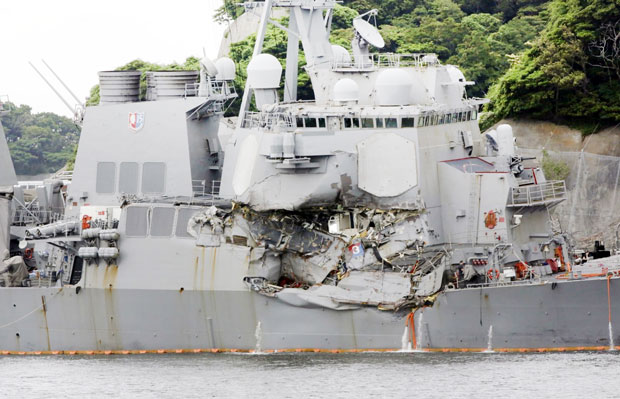 Poor seamanship and flaws in keeping watch contributed to a collision between a Navy destroyer and a commercial container ship that killed seven sailors, Navy officials said, announcing that the warship captain will be relieved of command and more than a dozen other sailors will be punished.

Adm. William Moran, the vice chief of naval operations, told reporters Thursday that the top three leaders aboard the USS Fitzgerald, which was badly damaged in the June collision off the coast of Japan, will be removed from duty aboard the ship. They are the commanding officer, the executive officer and Master Chief Petty Officer, who as the ship's command master chief is its most senior enlisted sailor. "The collision was avoidable, and both ships demonstrated poor seamanship," the Navy's 7th Fleet said in a statement, noting that "flawed" teamwork among those assigned to keep watch contributed to the collision.

Administrative penalties were handed out to seven others who were members of the watch teams, he said, without giving details. All 14 remain in the Navy, but they will be assigned to other jobs, he said.
The Navy's investigation into how and why the USS Fitzgerald collided with the container ship has not yet been completed, but enough details were available to decide on Friday's actions, the Navy said.

(c) 2017,
By Robert Burns | AP August 18 at 2:18 AM
WASHINGTON —