---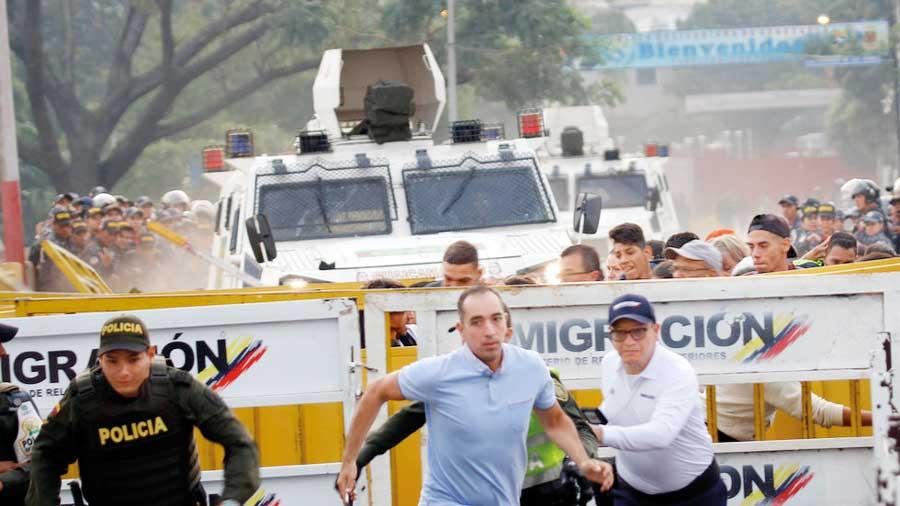 Venezuela's US-backed opposition on Saturday met with strong resistance from the army and militias as they tried to bring humanitarian aid into the country, with at least four people reported killed and dozens injured.

The incident occurred in Santa Elena de Uairen in Venezuela's Bolivar state, which borders Brazil.

Opposition supporters clashed with Venezuelan border security forces in several hotspots on Saturday, pelting police officers with rocks and setting tires on fire. In one instance, protesters ripped up a tree and used it as a battering ram against Venezuelan police vehicles.

rt.com reported that while the Tienditas bridge on Colombia's border, never opened for traffic and remained calm, there were several incidents at the two other bridges in the area where police used tear gas on several occasions.

At at Simon Bolivar Bridge, three apparent defectors, hijacked armored carrier vehicles and rammed through the border posts into Colombia, injuring several people.

At least one truck carrying aid and attempting to get into Venezuela was set on fire, before it could cross the border.

Venezuelan opposition leader Juan Guaido is trying to bring aid to hundreds of thousands of people who he says are in urgent need of food and medicine. But President Nicolas Maduro regards the aid as a US plot to topple him and does not want to let it through.

Large demonstrations for and against the aid operation also took place in the capital Caracas, where no violence was reported. Maduro told a crowd he would "never surrender" and that "the fatherland" was defending its frontiers and its independence.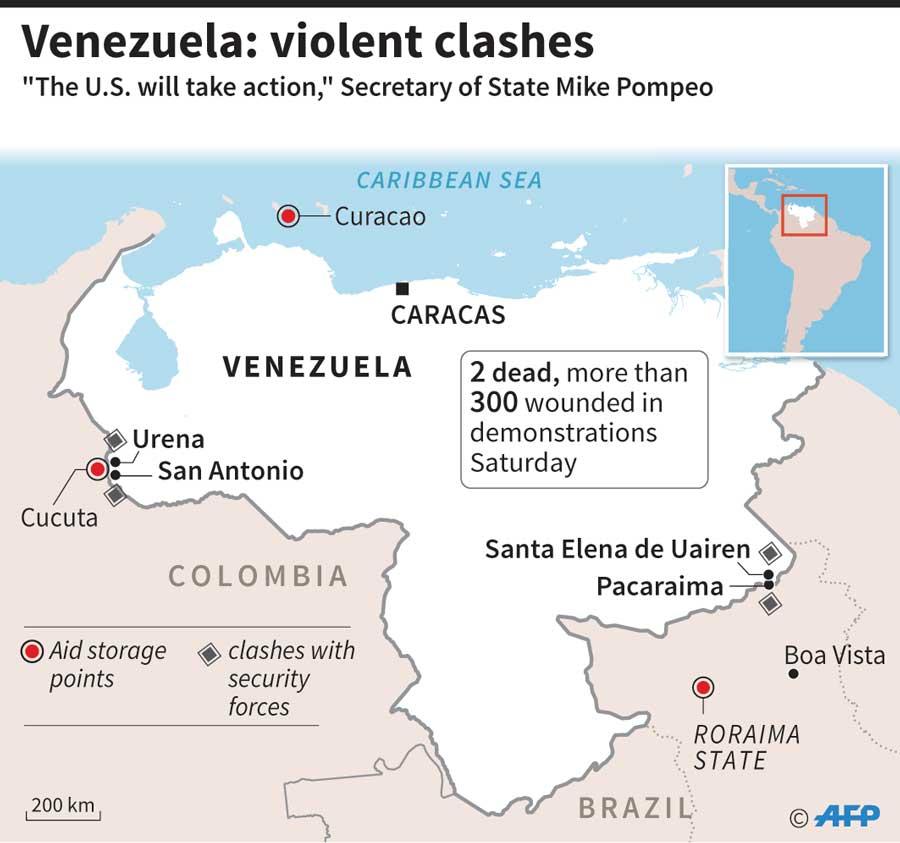 ---
US threatens Venezuelan government
US Secretary of State Mike Pompeo denounced the violence on Twitter and said "the US will take action against those who oppose the peaceful restoration of democracy in Venezuela."
US, (rt.com), 24 Feb 2019 -
---
Red Cross denounces unsanctioned use of emblam
(rt.com), 24 Feb 2019 - Meanwhile the world's largest international aid organization has demanded that "unaffiliated" activists at the Venezuela-Colombia border not use their insignia, as it risks "jeopardizing our neutrality, impartiality & independence," the International Federation of Red Cross and Red Crescent Societies said.
Bogota (dpa/rt.com),
24 February 2019 –