---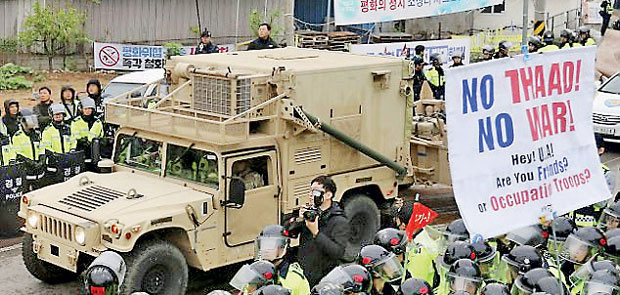 The United States pledged Wednesday to step up sanctions to force North Korea to resume dialogue over its nuclear program, but said it was not looking to bring Kim Jong-Un's regime to its knees.

After briefing senators at the White House, top US officials said President Donald Trump also aimed to pursue diplomatic measures with allies and regional partners.

Separately, a senior administration official told AFP that the United States is considering adding North Korea to its list of countries that are designated as "state sponsors of terrorism." US troops in South Korea began on Wednesday deploying a contentious anti-missile system in South Korea that has infuriated China.

The Terminal High Altitude Area Defense (THAAD) system is being set up on a former golf course in the southern county of Seongju, and its arrival was met by hundreds of protesters, some of whom clashed with police.

Harris said the THAAD system "will be operational in the coming days." China fears THAAD will weaken its own ballistic capabilities and says it upsets the regional security balance.

Harris also said the Pentagon should weigh whether to install missile interceptors on Hawaii, which could be one of the first parts of the United States in range of an improved North Korean missile, in addition to existing interceptors in California and Alaska.

WASHINGTON AFP April 27, 2017