---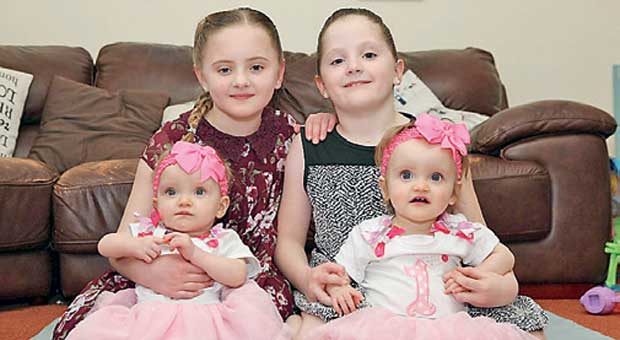 (Daily Mail, London), 19.02.2017 -
At least they will never have a problem remembering each other's birthdays. For sisters Erin, Leah, Charlotte and Isabelle Sullivan were all born on the same date.

The two sets of twins - the elder girls are nine years old while the younger girls have just celebrated their first birthday - have defied odds of 4.5 million to one to arrive in the world on January 25.

But despite the twins' double-double of birthdays, the girls' parents still face a struggle to organise everybody's parties and gifts - as they have five other children, and another one on the way. It was the start of 2016 when full-time mum Zoe was rushed to from the family home in Lossiemouth, Moray, to Raigmore hospital in Inverness for an emergency c-section.

Tiny Erin and Leah were brought into the world on January 25 - exactly the same date that Charlotte and Isabelle were born in 2008.