---

Two people are feared dead after pedestrians were hit by a white van near a renowned north London mosque, in what is being described as a 'terrorist attack'.

One man has been arrested but it is feared two more suspects may be on the run after the van ploughed into a crowd outside Finsbury Park Mosque, as they finished taraweeh, Ramadan evening prayers.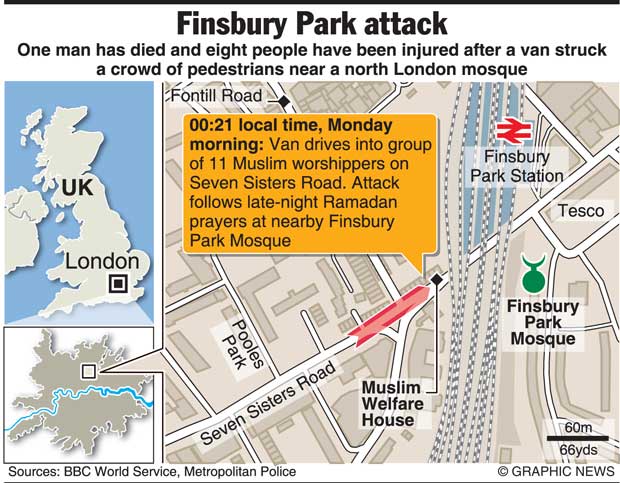 Eyewitnesses reported seeing bystanders wrestle the suspect to the floor and pin him down until officers arrived at around 20 past midnight.

Others added that the victims -members of the congregation- were trying to save a man who had collapsed at a bus stop. Other unconfirmed reports suggested that the attackers had knives and a man had been stabbed.

Emergency service crews were also spotted giving cardiac massages to the injured.

Mehdi, a 38-year-old worshipper, told the Evening Standard: 'There were loads of people coming out and the van took a left and went straight into them.

'I saw four of five people on the floor. At least one person was stabbed.

'The crowd caught a guy. He tried to do a London Bridge thing.' Labour Party leader, Jeremy Corbyn expressed his shock at the incident, which took place in his Islington North constituency.
London, (Daily Mail), 19 June 2017 -