---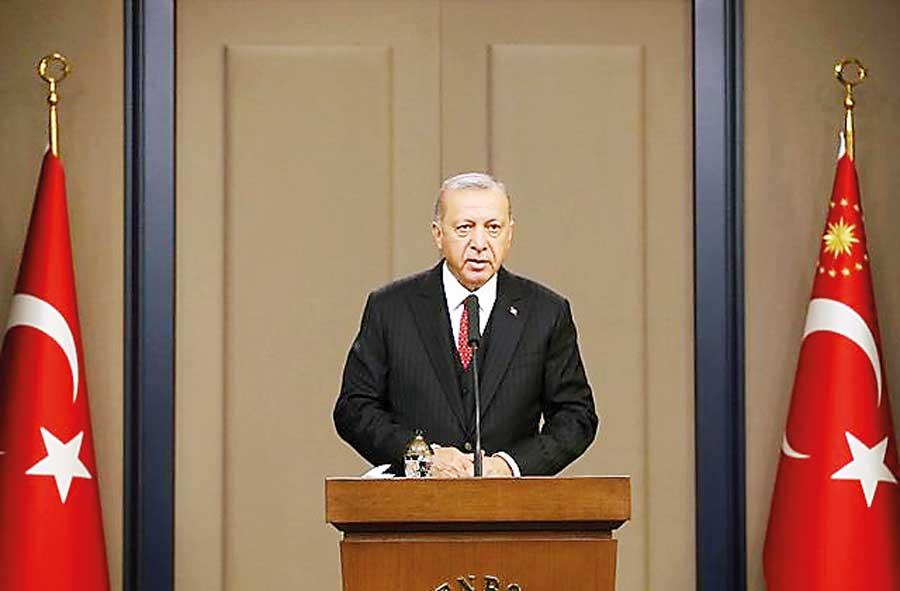 President Recep Tayyip Erdogan announced the start of Turkey's long-threatened military offensive in northern Syria, after a US decision to abandon its Syrian-Kurdish partners.
Erdogan confirmed the offensive, called "Operation Peace Spring," on Twitter.

He said it was targeting Islamic State and the Syrian-Kurdish People's Protection Units (YPG), which Turkey considers to be linked to the outlawed Kurdistan Workers' Party (PKK) waging an insurgency within the country.

"Our mission is to prevent the creation of a terror corridor across our southern border, and to bring peace to the area," he said.

This is Turkey's third offensive in three years aimed at Syrian-Kurdish militias, after Operation Euphrates Shield in 2016 and Operation Olive Branch in 2018.

"#OperationPeaceSpring will neutralize terror threats against Turkey and lead to the establishment of a safe zone, facilitating the return of Syrian refugees to their homes," Erdogan said.
"We will preserve Syria's territorial integrity and liberate local communities from terrorists," he added.

The presidency released photographs of a solitary Erdogan, flanked by two Turkish national flags, staring into a tablet as he gave the go order.

Syrian Kurdish forces, who had declared a three-day state of heightened alert and issued a call for mobilization, confirmed that airstrikes had begun.

"Turkish warplanes have started to carry out airstrikes on civilian areas. There is a huge panic among people of the region," tweeted Mustafa Bali, spokesman of the Kurdish-led Syrian Democratic Forces (SDF).

Turkish state broadcaster TRT said the army hit five posts in Ras al-Ain, in north-eastern Syria near the border with Turkey. TRT also showed footage of Turkish F-16 jets taking off from a military base in Diyarbakir, in south-eastern Turkey, which it said are on the way to join the air campaign.

Artillery units were pounding Syrian Kurdish militia posts in the strategic northern Syrian town of Tal Abyad, TRT reported.
REUTERS, 09th
OCTOBER, 2019
---
Turkish warplanes strike northeast, 'huge panic
REUTERS, 09th OCTOBER, 2019-The Kurdish-led Syrian Democratic Forces (SDF) said Turkish warplanes struck its region in the northeast, sparking "huge panic among people" on Wednesday.

"Turkish warplanes have started to carry out air strikes on civilian areas," SDF spokesman Mustafa Bali said on Twitter.

Syrian state media and a Kurdish official separately said bombing hit the town of Ras al-Ain in the northeast along the Turkish border.