---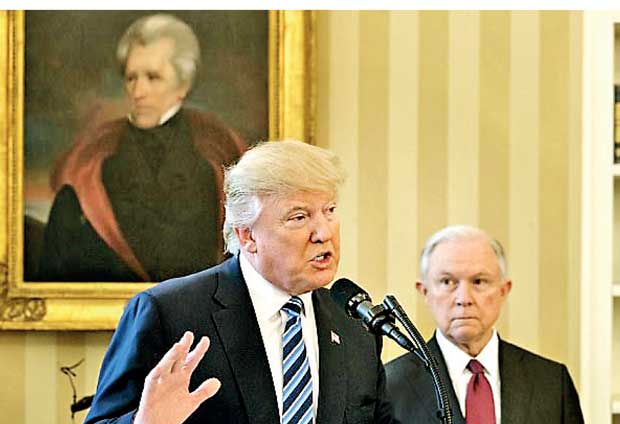 President Trump took aim at Jeff Sessions, fired FBI director James Comey and Robert Mueller in a no-holds barred interview on Wednesday.

Speaking to The New York Times, he admonished Sessions, the attorney general, for recusing himself from the Russia investigation and said he never would have given him the position had he known ahead of time.Next in the firing line was ousted FBI director James Comey.

Trump said he believed Comey, who he fired in May, was leveraging the now infamous 'dirty dossier' of made-up material that was supposed to incriminate the president and his connections to Russia in order to keep his job.

In his interview on Tuesday, the president did not shy away from discussing the investigation's new leader, Robert Mueller.

While Trump insisted to the Times that he would never instruct the Justice Department to fire Mueller, he did warn that if he turned the investigation towards his family's finances beyond Russia, he would consider it going too far.

'I think that's a violation. Look, this is about Russia,' he said.

He also claimed that Mueller's office was rife was conflicts of interest and said confidently: 'I don't think we're under investigation. I'm not under investigation. For what? I didn't do anything wrong.'
The president also touched on his meeting with Vladimir Putin after the G20 summit, claiming the pair only spoke for 15 minutes and that the conversation was about Russia's ban on US citizens adopting children from the country.

US (Daily Mail),
20 July 2017