---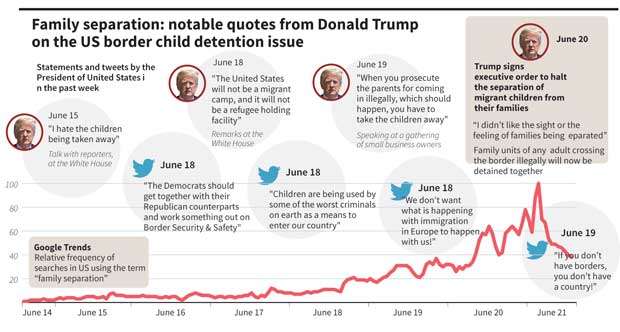 David Nakamura, Nick Miroff, Josh Dawseyreported for the WP President Donald Trump this afternoon signed an executive order ending family separation at the border.

The president, in an abrupt U-turn on the divisive policy put into place by his own administration, directed the Department of Homeland Security to detain families together so long as children are not put into danger.

President Donald Trump sought to stanch a public outcry over his administration's "zero tolerance" immigration policy Wednesday, signing an executive order to end family separations at the U.S.-Mexico border after days of insisting he was legally unable to act. Trump's abrupt reversal, contradicting his own aides' defence of the practice, signaled a political retreat after an international backlash over images of hundreds of children being taken from their parents and held in cage-like detention facilities.

But it remained highly uncertain whether the president's hastily drafted order to keep families together in federal custody while awaiting prosecution for illegal border crossings would withstand potential legal challenges.

The executive order came after a day of frantic White House meetings as administration lawyers scrambled to produce a legally sound document to solve Trump's political dilemma. Trump had begun to doubt his strategy, telling Republican lawmakers privately on Tuesday night that the images of the children were a "bad issue" for the GOP.

US, (Daily Mail/Washington Post), 21 June 2018 -