---
Donald Trump will take a first step toward enacting his pledge to "build a wall" on the Mexican border Wednesday by issuing an executive decree.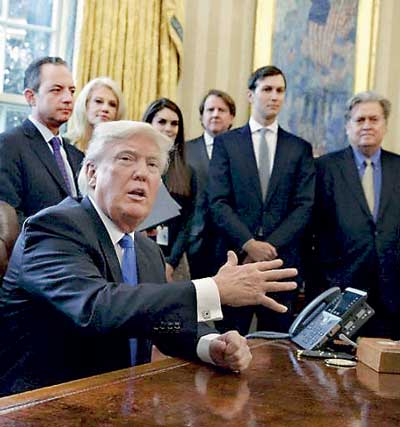 The White House said that Trump will visit the Department of Homeland Security in the afternoon, when he is expected to roll out a series of immigration-related measures.

"Big day planned on NATIONAL SECURITY tomorrow. Among many other things, we will build the wall!" Trump tweeted late Tuesday.

Stemming immigration to the United States was a central plank of Trump's election campaign.
His signature policy was to build a wall across the 2,000 mile (3,200 kilometer) border between the United States and Mexico.

Some of the border is already fenced, but Trump has argued that a wall is needed to stop illegal immigrants entering from Latin America.

Experts have voiced serious doubts about whether a wall would actually stem illegal immigration, or if its worth investing billions in such a project when there are other cost effective methods of achieving similar results.

But the issue has become a clarion call for the US right and far right, the core of Trump's support.
After four days in office some are wondering why the populist president's policies have been largely indistinguishable from those of orthodox Republicans. His promised executive order may be a way to slake that thirst.

Still, any action from the White House would be piecemeal, diverting only existing funds toward the project. The Republican-controlled Congress would need to supply new money if the project is to be anywhere near completed, and Trump's party has spent years preaching fiscal prudence.