---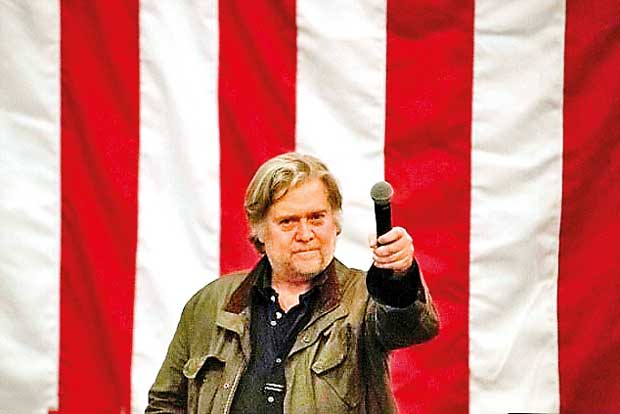 Attorneys for Donald Trump have issued a cease and desist letter to Steve Bannon threatening legal action after the president's longtime consigliere was quoted trashing Donald Trump Jr. and claiming his father would have immediately been made aware of an infamous Trump Tower meeting with Russians.

The letter seen by ABC News comes on the heels of an extraordinary statement - part of which was apparently directly proclaimed by the president himself - bashing Bannon, the former top Trump advisor.

Bannon claimed a Trump Tower meeting with a Russian lawyer, supposedly to obtain unflattering information about Hillary Clinton, was 'treasonous' and 'unpatriotic,' prompting an unprecedented brushback of the former White House aide from the president.

Trump attorney Charles Harder said in a statement: 'This law firm represents President Donald J. Trump and Donald J. Trump for President, Inc.

'On behalf of our clients, legal notice was issued today to Stephen K. Bannon, that his actions of communicating with author Michael Wolff regarding an upcoming book give rise to numerous legal claims including defamation by libel and slander, and breach of his written confidentiality and non-disparagement agreement with our clients. Legal action is imminent.'
US, (Daily Mail), 4 January 2018
---
Ivanka and Jared Kushner have a Clinton-style pact that she will run for president
(Daily Mail), 4 Jan 2018-The president's elder daughter Ivanka and her husband Jared Kushner are said to have a pact that she will run for president if the opportunity arises, in a pact reminiscent of the Clintons

Wolff also writes that Trump believes that Kushner is a 'suck-up' and has griped that the couple shouldn't have moved to Washington. In the chapter of the book that ran on Wednesday, Wolff says, among other things, of Jared and Ivanka that they took West Wing jobs, working for Ivanka's father, 'over the advice of almost everyone they knew.'