---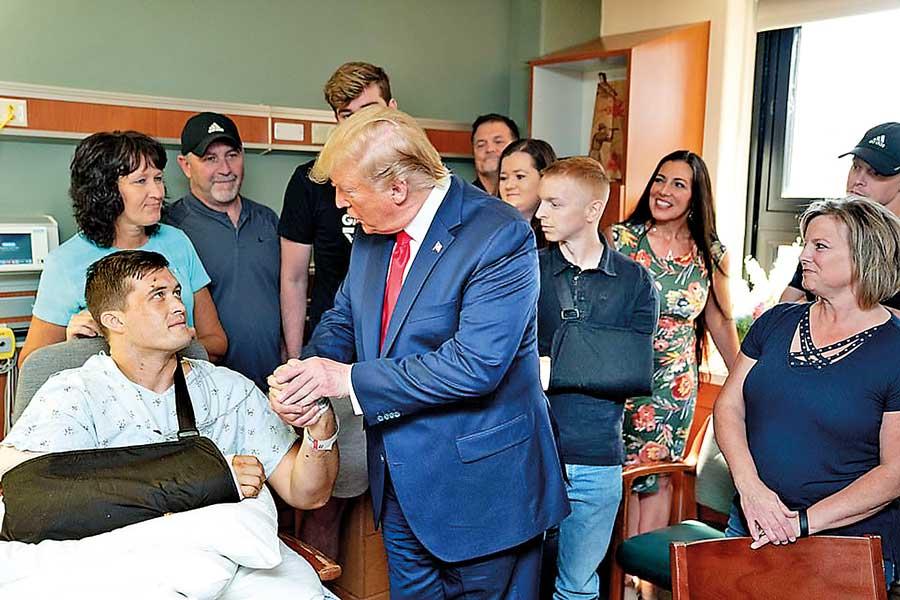 Trump consoled victims of mass shootings in Ohio and Texas on Wednesday, but despite promising a message of unity, he continued to rail at opponents while facing protests that his rhetoric on race has fueled extremism.

Trump flew to El Paso, Texas, where a self-declared white supremacist murdered 22 people last weekend at a Walmart heavily frequented by customers of
Hispanic origin.

He spent about an hour and a half at a hospital with staff and victims before he and his wife Melania were driven to the city's emergency operations center to meet with police officers.
Protesters gathered in the streets, watched by armed police. "Go home. You are NOT welcome here!" and "Trump hatred, racism not welcome here" read two
of the signs.

Similar scenes unfolded at an earlier stop in Dayton, Ohio, the site of another mass shooting over the weekend, in which nine people died. Trump blasted two Democratic officials who held a press conference after his visit to the Dayton, Ohio, hospital treating victims of Sunday's mass shooting, accusing them of being 'dishonest' and saying: 'They shouldn't be politicking today.'

While Trump did not fully spell out his grievance, one of his closest aides did, tweeting that it was 'disgusting' that Ohio senator Sherrod Brown and Dayton mayor Nan Whaley didn't acknowledge the 'rock star treatment' the president received while visiting survivors of Sunday morning's mass shooting.
Compiled by AFP/ Daily Mail,
8 Aug, 2019