---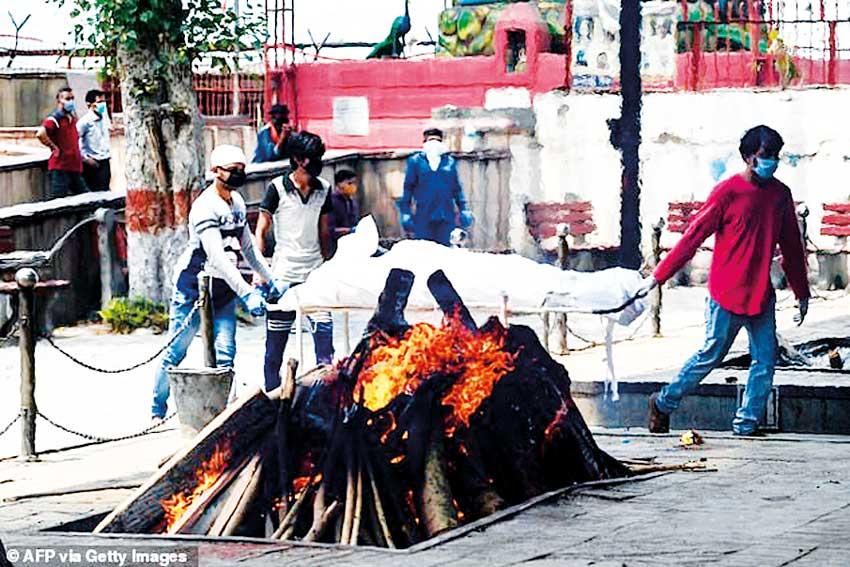 India, (Daily Mail), 7 June 2020 - Traditional funeral pyres have been set up in New Delhi after crematorium furnaces struggle to keep up with Covid-19 deaths as India records nearly 10,000 new cases in 24 hours - while global infections hit 6.5 million and deaths reach 387,000.

Smoke from the open-air blazes stings the eyes of waiting mourners and workers at Nigambodh Ghat, New Delhi's biggest and oldest crematorium.

The rising number of bodies arriving from hospitals has forced the facility, situated next to the city's historic Red Fort, to extend its opening hours. Funerals start at 8am and go on late into the night.

India is one of the hardest-hit countries from the coronavirus with about 240,000 cases and more than 6,700 dead. According to official figures, about 650 have died in Delhi, but media and cemetery officials say there have been hundreds more victims in the city. The country reported a record 9,887 new coronavirus cases in one day today and overtook Italy as the world's sixth-biggest outbreak, two days before the relaxing of a lockdown with the reopening of malls, restaurants and places of worship. With its total number of cases rising to more than 236,000, India now has fewer infections than only the United States, Brazil, Russia, Britain and Spain.

The committee that runs Nigambodh Ghat says the crematorium has handled more than 500 coronavirus funerals in two months. Three other crematoria and at least two cemeteries also handle Delhi's virus dead.

Authorities have ordered victims be incinerated in modern furnaces as a precaution against infection as anxiety grows over the spread of the disease. But only three of six furnaces at Nigambodh Ghat are working, so for the past week, wood pyres, the traditional structures used in Hindu funeral rituals for thousands of years, have been allowed to help clear the backlog.