---
US, (Daily Mail, US), 16 May 2017 - Paul Ryan has become the latest leading Republican to speak out as backlash grows following reports the president shared 'highly classified' information with top Russian officials during an Oval Office meeting last week.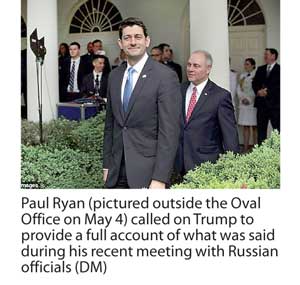 Ryan, the House Speaker, released a statement on Monday night calling for Donald Trump and his office to provide a full account of the meeting in which he is being accused of sharing secrets with Russia.

'We have no way of knowing what was said, but protecting our nation's secrets is paramount,' the statement from Ryan's spokesman, Doug Andres, read.

'The speaker hopes for a full explanation of the facts from the administration.'

The comments came after Bob Corker, the Senate Foreign Relations Committee chairman, was one of the first Republicans to speak out against the White House after reports emerged in the Washington Post.