---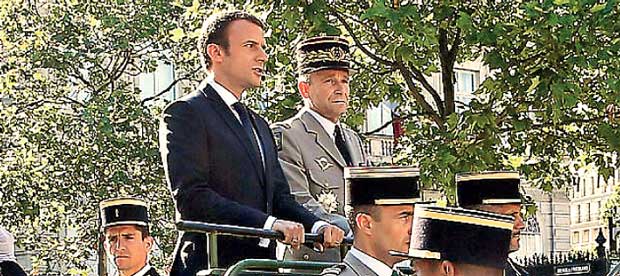 (Daily Mail,), 20 July 2017-France's most senior military officer resigned yesterday following an unprecedented public row with President Emmanuel Macron over £750m-worth of military cuts.
General Pierre De Villiers, 61, even posted comments on Facebook about it at one stage, prompting 39-year-old Mr Macron to accuse him of 'washing dirty linen in public.'

In turn, the General said savage reductions in budgets meant he could no longer 'guarantee the protection of France and French people'.

He handed in his resignation on Wednesday morning. Mr Macron's biggest political crisis to date highlights the problems he is having as he tries to make £53bn-worth of EU austerity savings while also keeping an election pledge to cut taxes.

Last week, the President – who is also Commander in Chief of France's armed forces – said he wanted to cut the 2017 defence budget to help bring his country's deficit below the EU limit of three per cent of gross domestic product.