---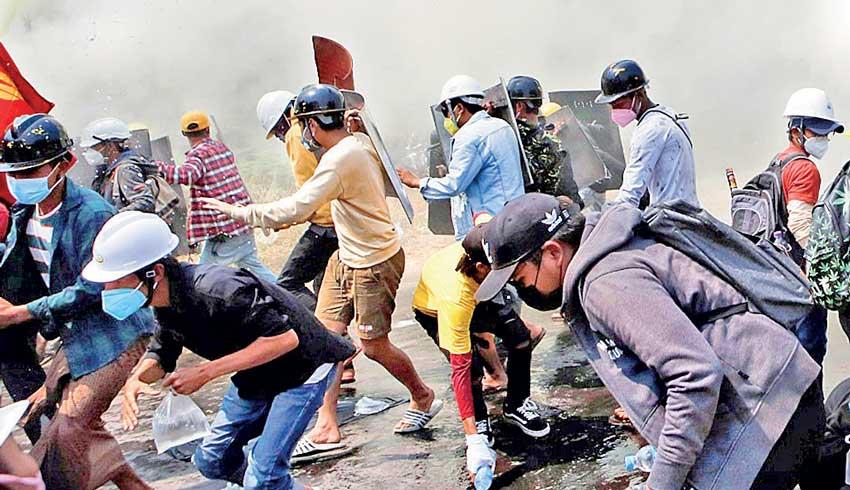 Three people were killed in Myanmar on Monday at demonstrations against last month's military coup, and hundreds of protesters in the main city Yangon pleaded for help after they were cornered by security forces after dark.

In a sign of the growing Western outrage at Myanmar's military, the European Union is preparing to target businesses linked to the army, according to diplomats and internal documents seen by Reuters.

The junta has come under increasing foreign criticism for its attempts to crush protests and re-establish control over the country, where more than 50 people have been killed since the Feb. 1 coup that ousted elected leader Aung San Suu Kyi.

Two protesters died of gunshot wounds to the head in the northern town of Myitkyina, witnesses said. They were hit by gunfire from buildings as police used teargas and stun grenades against protesters, but it was unclear who fired the shots.

"How inhumane to kill unarmed civilians," said a 20-year-old man who helped to move the bodies. "We must have our right to protest peacefully." Three people were wounded.
At least one person was killed and two wounded at a protest in the town of Phyar Pon in the Irrawaddy Delta, a political activist and local media said.

Daily protests for more than a month have demanded the release of Suu Kyi and what are now more than 1,400 other detainees. They also demand respect for the results of an election in November that her National League for Democracy (NLD) had won.
(Reuters), 8 March, 2021