---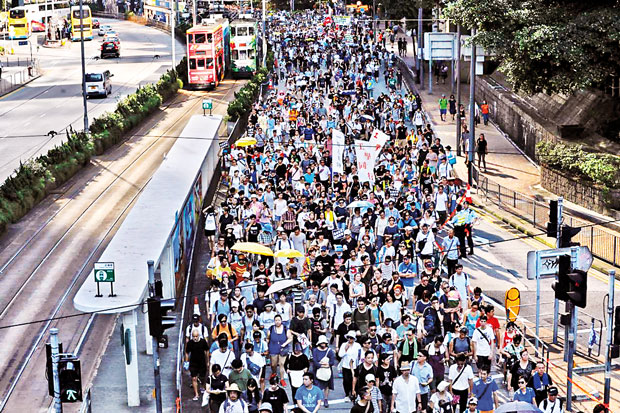 REUTERS, 20th AUGUST, 2017-Thousands of people took to the streets of Hong Kong on Sunday to protest against the jailing of three young democracy activists, with many questioning the independence of the Chinese-ruled city's judiciary.

On Thursday, Joshua Wong, 20, Nathan Law, 24 and Alex Chow, 27, were jailed for six to eight months for unlawful assembly, dealing a blow to the youth-led push for universal suffrage and prompting accusations of political interference.

Thousands of people marched in sweltering temperatures above 30 degrees Celsius (86°F) to the Court of Final Appeal, carrying placards and banners denouncing the jailing of the activists.
Former student leader Lester Shum, who helped organize Sunday's rally, said the number of protesters was the highest since pro-democracy protests in 2014 that paralyzed parts of the financial hub for 79 days.

"This shows that the Hong Kong government, the Chinese Communist regime and the Department of Justice's conspiracy to deter Hong Kong people from continuing to participate in politics and to protest using harsh laws and punishments has completely failed," Shum said. Protesters brandished a large banner saying: "It's not a crime to fight against totalitarianism." They shouted: "Release all political prisoners. Civil disobedience. We have no fear. We have no regrets."