---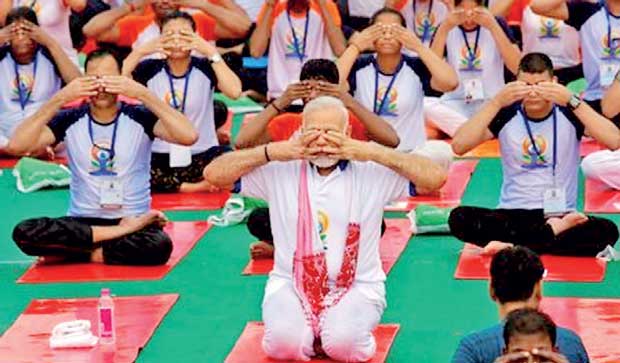 REUTERS, 21st JUNE, 2017- From the deck of an aircraft carrier to the sub-zero temperatures of a Himalayan military outpost, tens of thousands of Indians joined Prime Minister Narendra Modi on Wednesday to celebrate the third International Yoga Day.

Rains failed to dampen the spirits of about 50,000 people who joined in an outdoor yoga session with the prime minister in a park in Lucknow, capital of the northern state of Uttar Pradesh.

"Yoga has connected the world with India," Modi, looking relaxed in white track pants and blue-collared T-shirt, told a cheering crowd. "Yoga is about health assurance. It is not even expensive to practice," he added.

The Modi's official Twitter handle, which has more than 30 million followers, has posted pictures of mass yoga sessions in China, Colombia, the United States, Paraguay, Mexico, Italy, Singapore and atop Machu Picchu, a 15th century Inca citadel in Peru.

Social media was flooded with pictures of yoga, the country's signature cultural export, being performed in various places including an Indian Navy submarine and the landing deck of an aircraft carrier.

"It is not only the world's longest serving aircraft carrier but also the world's longest-serving warship. I think the ship must have done lots of pranayaams to be sustaining for so long," top naval officer Puneet Chadha told a TV channel, referring to a yogic breathing technique.

Indian President Pranab Mukherjee held a yoga session at the presidential palace and several members of Modi's cabinet joined similar events across the country.