---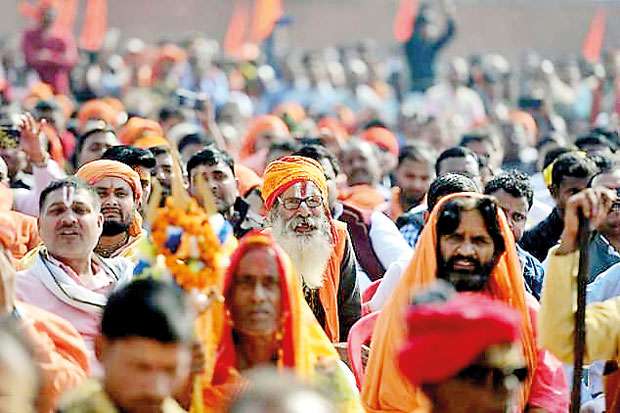 AYODHYA AFP Nov25, 2018- Tens of thousands of Hindu hardliners rallied Sunday for a temple to be built at a disputed Indian holy site, where an ancient mosque was razed in 1992 sparking deadly riots.

Huge crowds of saffron-clad protesters, some waving swords and chanting "Praise Be to Ram", massed in Ayodhya in northern Uttar Pradesh state where right-wing Hindu groups want a grand temple to their god constructed.

Organisers had expected 300,000 demonstrators to attend rallies in Ayodhya and two other Indian cities, with protesters arriving by bus and train throughout the day.

Security measures were beefed up, with some 5,000 additional police deployed to protest areas, especially in Ayodhya. Many Hindus believe a spot there marks the birthplace of Ram and that a medieval mosque that stood there for 460 years was only built after the destruction of an earlier temple.

Hindu zealots reduced the Babri Mosque to rubble in 1992, kicking off riots across India that left thousands dead, most of them Muslims.