---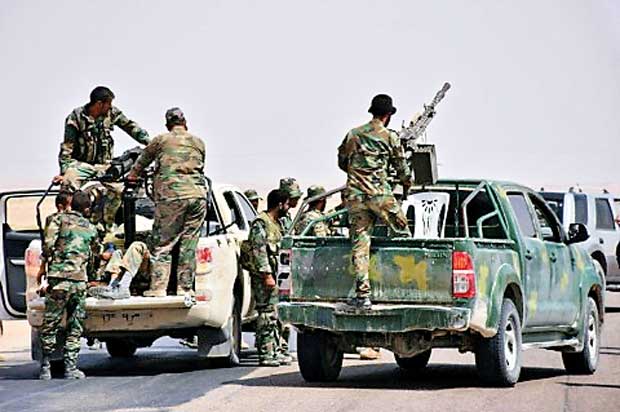 The Syrian army has reached an eastern city that has been besieged by Islamic State militants for nearly three years.

"The Syrian army breaks the siege imposed on Deir al-Zour," Syrian television said.

The army reached the besieged Brigade 137 base, located at the south-western edge of the city.
"After 32 months of siege, the army managed to dismantle mines and open a corridor to reach its besieged forces, in the first move to lift the siege on the area," Rami Abdel Rahman, the head of British-based Syrian Observatory for Human Rights, told dpa. Deir al-Zour, the main city in the Syrian province of the same name, has been almost entirely controlled by Islamic State since 2014.

Syrian troops, backed by ally Russia, have been advancing towards Deir al-Zour city on several fronts for several weeks, according to the London-based Observatory.

A Syrian military source requesting anonymity said the move is a step towards reaching the Deir al-Zour military airport, south-east of the city, adding that priority now to dismantle the mines.
Liberating Deir al-Zour completely will not be achieved before the opening of the international road from Sukhna, in the province of Homs, the source said.

Syrian President Bashar al-Assad described the operation as a "resounding victory" against "the most dangerous terrorist organization on the face of earth," according to the country's official SANA news agency.

Mohammed Ibrahim al-Samara, the governor of Deir al-Zour, told dpa by phone that "there are 70,000 civilians besieged in the Deir al-zour as well as 6,800 Syrian government troops."

A resident from Deir al-Zour who refused to give his name said people under siege started to celebrate what he described "as the initial victory."

But the governor warned civilians against holding any celebratory gatherings out of fear that the Islamic State jihadists would shell the area.

Most of the province of Deir al-Zour is under the control of the Islamic State.

"There are 32 neighbourhoods inside the city, which are under the control of Islamic State and only four are under the regime control," the resident added.
DPA, 05th SEPTEMBER, 2017