---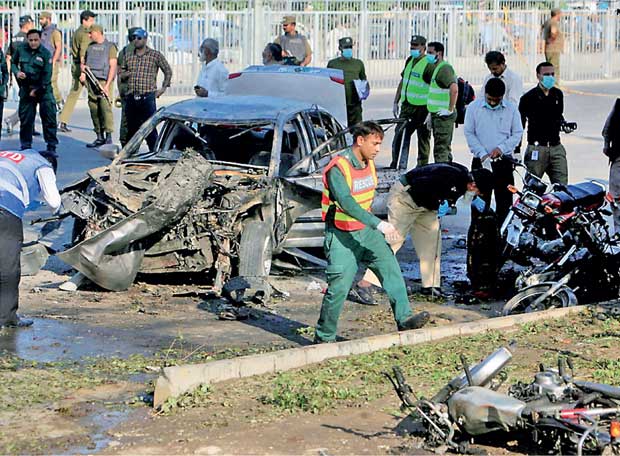 By Shaiq Hussain and Max Bearak
The Washington Post
ISLAMABAD, July 24 2017 -
Pakistan — At least 26 people were killed and dozens injured in a suicide attack Monday in the eastern Pakistani city of Lahore, officials said.

The blast occurred near a vegetable market and a software technology park on the city's busy Ferozepur Road, close to the residence of Shahbaz Sharif, the brother of Prime Minister Nawaz Sharif and chief minister of Punjab state, of which Lahore is
the capital.

Tehrik-e-Taliban Pakistan , the country's main branch of the Taliban, asserted responsibility for the attack in an email, saying that one of its soldiers had used an "explosives-laden motorcycle."
A senior police official in Lahore, Haider Ashraf, confirmed the claim and told journalists that a suicide bomber appeared to target police personnel taking part in a drive to clear street vendors from the market area.

Earlier, Interior Minister Chaudhry Nisar Ali Khan told journalists in Islamabad, the capital, that the nature of the attack was not yet clear and that an investigation was being launched.

"Most of the casualties and those injured are police personnel," he said. Punjab's health minister, Khawaja Salman Rafique, said that about 50 people were injured in the blast.

Suicide attacks have long been common in Pakistan, but in recent months Lahore and other major urban centers have experienced a period of relative peace. Before Monday's explosion, the last such attack in Lahore was a suicide bombing targeting an army census team in April in which six were killed.

Tehrik-e-Taliban Pakistan and a splinter group, Jamaat ul-Ahrar, are the most active anti-government militant groups in the country. Both are known colloquially as the Pakistani Taliban.