---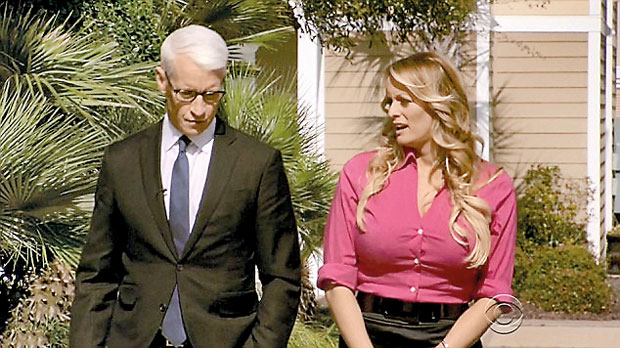 US, (Daily Mail), 26 March 2018 - Stormy Daniels (an adult film actress) says she had unprotected sex with Donald Trump and spanked him with a magazine that had his face on the cover, even though she wasn't physically attracted to him.

The porn star also claims a mystery man threatened her and her infant daughter in 2011 after she tried to expose her 2006 tryst with the president in a lucrative magazine interview, and kept silent until now out of fear.

The 39-year-old adult actress made the bombshell statements on 60 Minutes on Sunday night in her highly-anticipated interview with Anderson Cooper, after dodging questions about her relationship with the president for months.

Reports of their illicit fling came to light in January, when it was reported that Trump's personal lawyer Michael Cohen paid Daniels $130,000 to sign a non-disclosure agreement just 11 days before the 2016 presidential election.

Cohen has denied ever threatening her. He did not return 60 Minutes' request for comment before the interview aired.

Daniels is now suing Trump over the hush agreement and claims it is void.