---
REUTERS, 22nd MARCH, 2017 - Former South Korean President Park Geun-hye left prosecutors' offices early on Wednesday after being questioned in an investigation into a corruption scandal that brought an early end to her political career.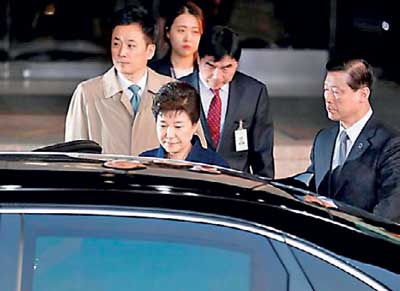 Park did not respond to reporters' questions as she emerged from the building after nearly 22 hours and got into a waiting car to be driven to her private home in the capital, Seoul. Prosecutors questioned Park as a criminal suspect for the first time since the Constitutional Court on March 10 upheld her December impeachment by parliament.

Park is accused of colluding with a friend, Choi Soon-sil, to pressure big businesses to donate to two foundations set up to back the former president's policy initiatives.
She and Choi have denied wrongdoing.