---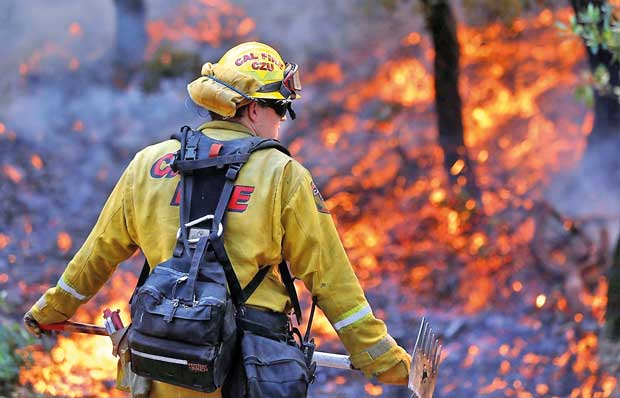 "Nothing more than ash and bones." That grim description of how some victims were found underscores the horror of the wildfires that swept through and devastated Northern California. At least 38 people were killed, including a 14-year-old boy found dead in the driveway of the home he was trying to flee, a 28-year-old woman confined to a wheelchair and a couple who recently had celebrated their 75th anniversary. In addition to the lives lost, approximately 5,700 homes and businesses were destroyed, including entire neighborhoods turned into smoldering ruins.

Some 220,000 acres, including prized vineyards, have been scorched, and the danger is not over, as some fires are still burning and officials fear the return of windscould spread more catastrophe. Fire season is part of life in California, something that residents know and prepare for after the hot, dry summer months. But the events that began last Sunday have been unprecedented, and so the question that must be confronted is what caused the deadliest week of wildfires in the state's history.
Gov. Jerry Brown, D, pointed the finger at climate change. "With a warming climate, dry weather and reducing moisture, these kinds of catastrophes have happened and will continue to happen and we have to be ready to mitigate, and it's going to cost a lot of money," he said last week.

No single fire can be specifically linked to climate change, and certainly other factors, such as increased development or logging and grazing activities, are involved. But scientists say there is a clear connection between global warming and the increase in recent years in the severity and frequency of wildfires in the West. "Climate change is kind of turning up the dial on everything," expert LeRoy Westerling told CBS News. "Dry periods become more extreme. Wet periods become more extreme."

While California prepares for what promises to be an arduous rebuilding, Texas, Florida, Puerto Rico and other places hit by this year's unprecedented back-to-back-to-back hurricanes are still mopping up and, in Puerto Rico's case, just beginning to rebuild. So it would seem to be a natural time to talk about the possible role climate change played in these disasters and about measures the nation should be taking to slow global warming.
(c) 2017, The Washington Post · Oct 15, 2017 -