---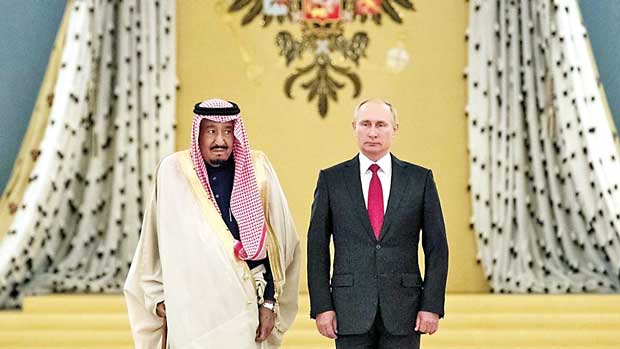 HINDUSTAN TIMES, 5 October, 2017
Saudi Arabia's King Salman, on the first official trip to Russia by a ruler of the oil-rich Sunni powerhouse, was set to meet President Vladimir Putin to discuss energy contracts despite discord over the Syrian conflict.

While they are partners on the oil market, on the foreign policy front, Moscow and Riyadh are on opposite sides of the war in Syria, with Russia supporting President Bashar al-Assad while Saudi Arabia supports the opposition.

Salman and Putin are expected to discuss major defence and energy contracts, as well as extending oil production cuts ahead of the OPEC oil cartel meeting in November.

Saudi Arabia and Russia are heavily dependent on oil exports and the global plunge of the price of crude that began in 2014 lashed both of
their economies.

Members of OPEC, of which Saudi Arabia is the biggest producer, have joined with non-member Russia and other countries in cutting crude output in a pact that has helped prop up prices.