---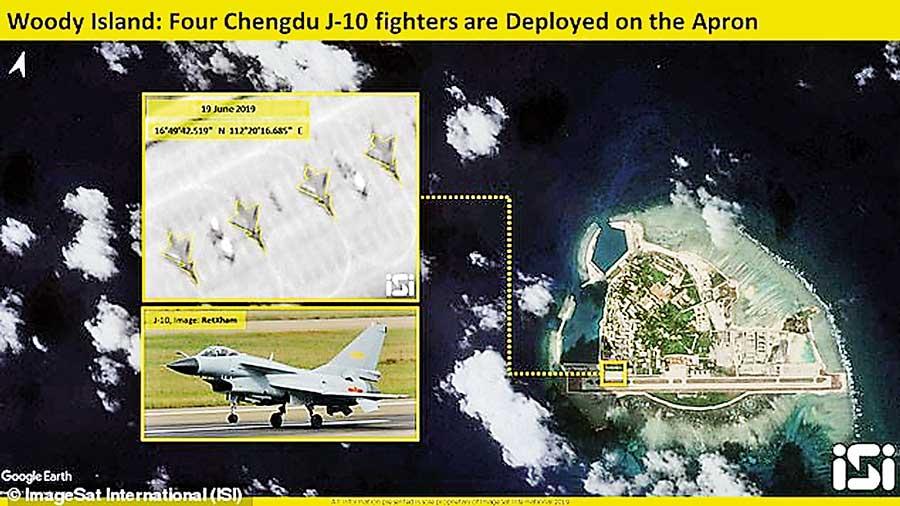 The photo, taken by Israeli intelligence firm ImageSat International (ISI) on Wednesday, shows four J-10 fighter jets parked on the Chinese-controlled Woody Island (DM)
(Daily Mail) 20 June 2019 -
China has deployed supersonic fighter jets to the contested Woody island in the South China Sea, a satellite image has revealed.

The photo, taken by Israeli intelligence firm ImageSat International (ISI) on Wednesday, shows four J-10 warplanes parked on the Chinese-controlled island in the Paracel Islands.

This is the first time since 2017 that fighter jets have been deployed to Woody Island, analysts told MailOnline, adding that the obvious placement of the planes is China's show of military might intended to boost its territorial claims in the disputed waters ahead of the G20 summit. Chinese President Xi Jinping is due to meet his US counterpart Donald Trump at the summit in Japan next week, with talks aimed at ending an ongoing dispute over trade and technology.

Woody Island, located 220 miles south-east from China's tropical Hainan, is home to the country's largest base in the island chain, which are also claimed by Vietnam and Taiwan.
'Deploying the J-10s to Woody Island at this time and in being so placed as to be particularly obvious to photographic satellites passing overhead suggests China wants them to be noticed,' said Peter Layton, a fellow at the Griffith Asia Institute and a former Royal Australian Air Force officer.