---
ISLAMABAD AFP May30, 2018-Pakistan and India have promised to end ceasefire violations in disputed Kashmir, their militaries said, following the highest levels of violence between the nuclear-armed rivals in the restive region in 15 years.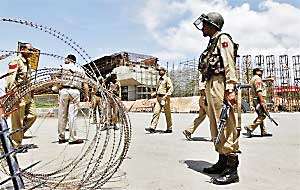 Dozens have been killed in border clashes in recent months along the Line of Control, the heavily militarised de facto border dividing the Himalayan territory, leaving residents terrified.

This month, shelling and gunfire along the frontier dividing Indian-held Kashmir from Pakistan's Punjab province --known as the working boundary-- killed at least 16 people, while 80,000 people on the Indian side fled their homes to escape the violence.

But the Pakistani military said late Tuesday that the two sides had pledged to respect the conditions laid out in a 2003 ceasefire inked by the rivals, following a call on the hotline between the militaries.
Both militaries "agreed to fully implement the ceasefire understanding of 2003 in letter and spirit forthwith and to ensure that henceforth the ceasefire will not be violated by both sides," the Pakistani side said in a statement.