---
Daily Mail/5 January 2017-
One of Osama bin Laden's sons has been designated a terrorist by the United States.
On Thursday, the U.S. State Department added Hamza bin Laden, believed to be in his mid 20s, to its list of global terrorists after confirming he had followed in his father's footsteps to join al Qaeda.
Al Qaeda senior leader Ayman al-Zawahiri released a tape in August 2015, claiming that Hamza had joined the group. In the audio message, Hamza himself spoke and called for lone wolf attacks in Washington, DC, Paris and Tel Aviv.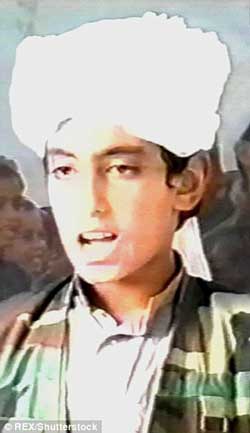 He issued another audio message this past July, calling for 'revenge against the United States'. The message specifically called on 'Saudi Arabian-based tribes to unite with al Qaeda's affiliate in Yemen to wage war against the Kingdom of Saudi Arabia' - an ally of the U.S.
Being added to the U.S.'s counter-terrorism blacklist involves economic sanctions that prevents people on the list from doing business with American citizens and holding funds in U.S.-based bank accounts.