---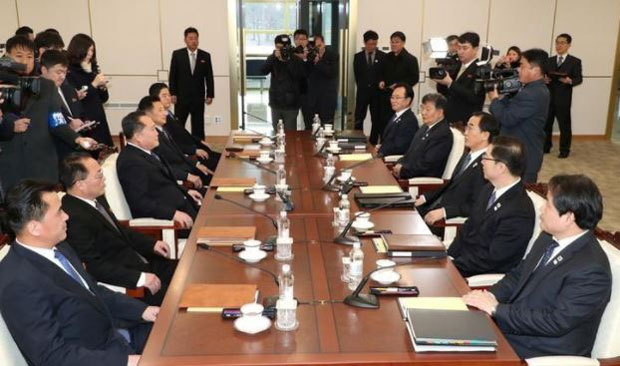 South and North Korean delegations attend their meeting at the truce village of Panmunjom in the demilitarised zone separating the two Koreas, South Korea.
REUTERS, 09th JANUARY, 2018
North and South Korea on Tuesday agreed on negotiations to resolve problems and military talks aimed at averting accidental conflict, after their first official dialogue in more than two years, as Pyongyang's nuclear weapons program fuels tension.

In a joint statement after the 11-hour talks, the North pledged to send a large delegation to next month's Pyeongchang Winter Olympics in the South, but made a 'strong complaint' after Seoul proposed talks to denuclearize the Korean peninsula.

South Korea asked its neighbor to halt hostile acts that stoke tension on the peninsula, and in return, the North agreed that peace should be guaranteed in the region, the South's unification ministry said in a separate statement.

The talks had been closely watched by world leaders keen for any sign of a reduction in tension, as fears grow over the North's missile launches and development of nuclear weapons, in defiance of United Nations Security Council resolutions.