---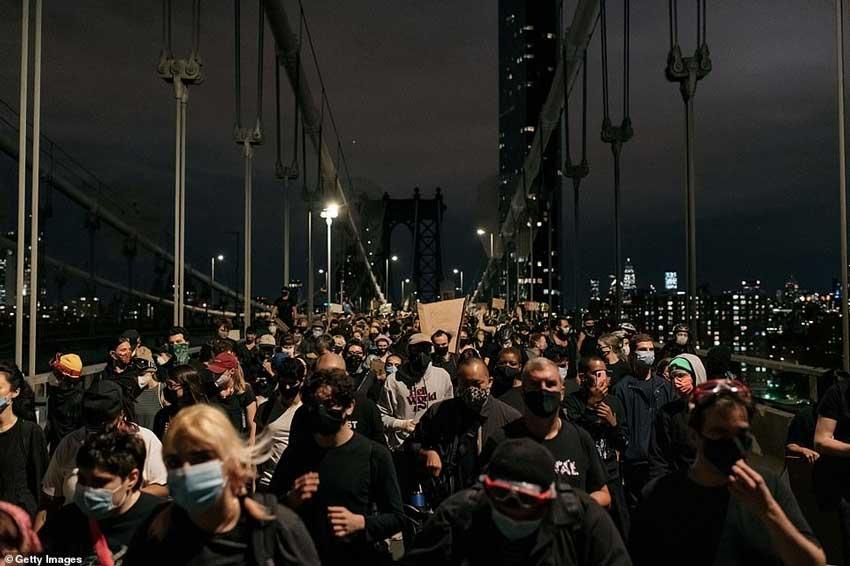 Donald Trump last night declared New York 'out of control' and said the city needed his help to 'put down' the latest round of George Floyd protests - but the city saw less looting and violence on the fifth night of unrest.

Thousands ignored mayor Bill de Blasio's 8pm curfew to continue their demonstrations, but police arrested more than 200 people as night fell and some of the rampant destruction of the previous few days was quelled.

The calmer scenes were echoed across much of America where protesters once again turned out in force but the confrontations with police were subdued and widespread rioting was limited.

It followed a day of anger from President Trump's critics over the way he threatened to deploy the military to quell riots across the US and cleared protesters in Washington DC so he could pose in front of St John's Episcopal Church.

He also considered using 'tanks' or other armored military vehicles to help restore order in the US after violent protests broke out across the country for a sixth night, defense officials have revealed.

In New York, De Blasio moved the city's first curfew since 1943 forward from 11pm but rejected Trump's urging and an offer from Governor Andrew Cuomo to bring in the National Guard.
An estimated 5,000 peaceful protesters were also left stranded on the Manhattan Bridge for hours after NYPD officers formed a barricade blocking entry into Manhattan after the curfew came into effect.
- US, (Daily Mail),
3 June 2020