---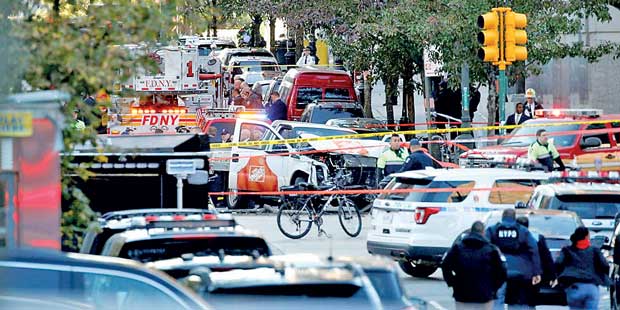 Investigators probing the background of the 29-year-old man they say mowed down pedestrians and cyclists on a Manhattan bike path believe he was a lone wolf who "radicalized domestically" after coming to the United States, New York Gov. Andrew M. Cuomo (D) said Wednesday.

Cuomo said the attacker became influenced by the Islamic State and its violent tactics after arriving in this country from Uzbekistan. Officials say the suspected attacker, Sayfullo Saipov, left a note declaring his allegiance to the group, but authorities have not found any connections between him and the Islamic State or any other organization.

"The evidence shows . . . that after he came to the United States, was when he started to become informed about ISIS and radical Islamic tactics," Cuomo said during an appearance on CNN's "New Day", using one of the acronyms for the group. "We have no evidence yet of associations or continuing plot or associated plots, and our only evidence to date is that this was an isolated incident that he himself performed."

Officials say Saipov climbed into a rental truck and careened down a path along Hudson River on Tuesday afternoon, slamming into numerous people before he was wounded by police and taken into custody.

At least eight people were killed — among them, five Argentines and a Belgian — in what became New York's deadliest terrorist attack since Sept. 11, 2001. Eleven more people were injured along a path of carnage in Lower Manhattan, a route that was strewn with bodies, wreckage and scattered personal items.
WASHINGTON POST,
1 November, 2017