---
SEOUL AFP Feb19, 2017- Malaysia's investigation into the murder of the North Korean leader's half-brother shows that the Pyongyang government was behind the assassination, South Korea said Sunday.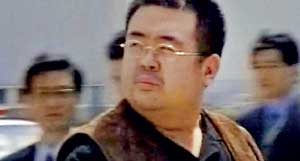 Malaysian police have arrested one North Korean suspect and are seeking four more North Koreans who left the country last Monday, the day Kim Jong-Nam was poisoned at Kuala Lumpur's main airport.

"Based on various factors, our government is certain that the dead man is Kim Jong-Nam, and considering that the five suspects are North Korean nationals, we view that the North Korean government is behind the incident," said Seoul's unification ministry spokesman Jeong Joon-Hee.
Jeong declined to provide further details, citing the continuing probe in Malaysia.

Jong-Nam, the half-brother of leader Kim Jong-Un, died after an unidentified liquid was sprayed in his face at Kuala Lumpur International Airport. Seoul says the attack was carried out by female agents on Pyongyang's orders.