---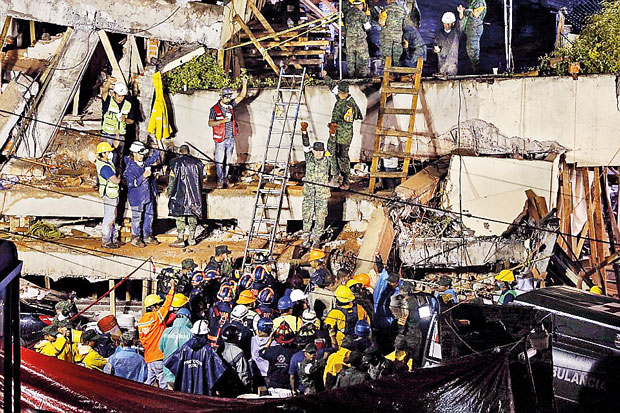 At least 248 people have been killed since the catastrophe struck on Tuesday - with safety experts fearing the number could climb up to 1,000.Rescuers have battled for 15 hours to save one girl, known only as Frida Sofia, who they found alive after she poked her fingers through the rubble. She also said there were five other children under the rubble with her.

As her chances of survival diminish with each passing hour, officials vowed to continue with search-and-rescue efforts.

Rescuers had earlier seen her hand protruding from the debris and the girl wiggled her fingers when asked if she was still alive.

'There's a girl alive in there, we're pretty sure of that, but we still don't know how to get to her,' Admiral Jose Luis Vergara told Televisa.More than 50 survivors have been plucked from several disaster sites in Mexico City since Tuesday afternoon's 7.1-magnitude quake, leading to impassioned choruses of 'Yes we can!' from the first responders.

Eleven other children were rescued from the Enrique Rebsamen School, where students are aged roughly six to 15. Twenty-one children and four adults there were killed. Meanwhile Popocatépetl volcano, to the southeast of the capital, has erupted - possibly as a consequence of the earthquake.
A church collapsed at the foot of the volcano, according to Forbes magazine, killing at least 15 worshipers.
-Mexico City, (Daily Mail)